"As we express our gratitude, we must never forget that the highest appreciation is not to utter words, but to live by them." -John Fitzgerald Kennedy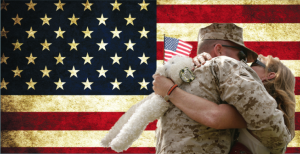 Image Via Fotolia.com
As we look ahead to Veteran's Day on Sunday, November 11, let's consider how best to observe this holiday so that we live up to its true meaning. How might you and your family celebrate Veteran's Day, not only on the holiday itself, but all year long? We have an opportunity to honor and support our veterans, both active and civilian, and here are some ways those of us in the RV community can get involved:
Say "Thank You"
Simply thank the veterans in your life and your community, with words or even with a handshake or a hug. We find veterans among our fellow RV campers at almost every stop. Another simple yet profound way to thank our service men and women is through Shutterfly's Thank the Troops Campaign. Shutterfly's Facebook App lets you send a free thank you card to service members overseas and in VA hospitals. You can also send a care package to troops, and there are a number of organizations who help make this easy. Google "send a care package to troops" to get a comprehensive list.
Take part in a local Veteran's Day observance or ceremony
From parades, to moments of silence, to terrific deals especially for vets, there are a ton of fun and meaningful events for the whole family. It's also a great chance for you to show your spirit with your favorite patriotic clothing or gear for your RV!
Check out the list of events happening all over the state, from Apple Valley to White Bear
Don't forget about fitness! St. Paul is hosting the second annual 5K to honor military service around beautiful Como Lake on November 11
There are special deals from local and national businesses all over the state for vets and their families
Vetfriends.com is always a great place to start to find local events and all things military
Support military charities or service organizations that directly support the military
From clothing to educational opportunities to mental health services, there are a wealth of opportunities to help make a difference in the lives of active and civilian military personnel. Reconnect America is a great place to get started and learn more.
To all of Minnesota's veterans: Thank you!