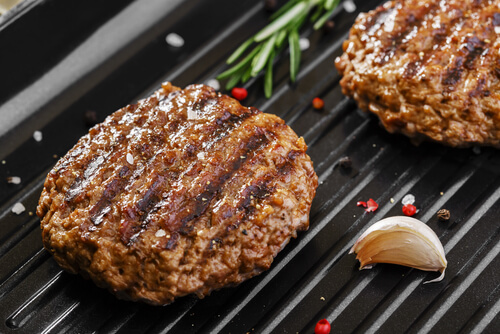 August 27 is National Burger Day, and that means it's time to fire up your RV grill. Plan on creating one of these two must-try burger recipes to wow your friends with out-of-this-world flavors.
Blue Moon Burgers
What you'll need:
1 pound ground beef
4 large toasted hamburger buns
4 ounces softened cream cheese
4 slices Monterrey jack cheese
4 ounces crumbled blue cheese
4 large pieces lettuce
Mayonnaise
4 tomato slices
shaved Bermuda onion
Cooking instructions:
Beat blue cheese and cream cheese together well.
Set mixture aside to let the flavors meld.
Form the ground beef into four equal patties. Cook them on the grill or as desired.
When finished cooking, add 1/4 of the cream cheese mixture to the top of each patty.
Top each burger with a slice of jack cheese, then spread mayonnaise on the toasted buns.
Wait until the cheese is gooey to place the burgers on the buns.
Top with lettuce, tomato and shaved onion.
Cowboy Burgers
What you'll need:
8 hamburger patties (1/4 pound each)
2 tomatoes (sliced)
8 slices cheddar cheese
3 onions (thinly sliced)
2 tablespoons olive oil
3 tablespoons A.1. Original Sauce
Cooking instructions:
Preheat your RV grill to medium heat.
While the grill is warming, heat the oil in a large skillet on medium-high heat.
Stir in the onions and cook them for 5 minutes, stirring often.
Cover the onions with a lid, and let them simmer for 20 minutes or until golden brown. Stir often.
Grill the patties for 5 minutes on each side or until they're cooked to your preferred doneness.
Stir the A.1. into the onion mixture.
Serve with one tomato slice and a burger on the bottom half of each bun.
Cover the burger with one slice of cheese and 3 tablespoons of the onion mixture, then add the other bun.
Visit PleasureLand RV Center
Late summer and early fall are some of the best times of year to find unbeatable deals on new and used RVs at the PleasureLand RV Center. Log online to learn about all of our end-of-summer deals today.