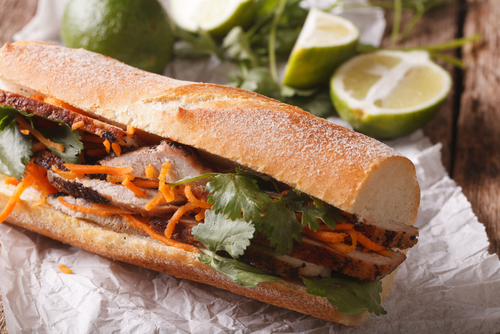 Sandwiches are always a convenient meal – easy to put together, made with affordable ingredients, portable, filling, and endlessly customizable. Sandwiches are a perfect fit for any RVer and August just so happens to be National Sandwich Month. To honor everyone's favorite go-to food, we've asked around PleasureLand RV Center to find out some favorites.
Elvis Sandwich

Prep – 10 mins. | Cook – 10 mins.
Ingredients
• 3 tablespoons peanut butter
• 2 slices white bread
• 1 banana, peeled and sliced
• 3 slices cooked bacon
• 1 1/2 teaspoons butter
Directions
Spread the peanut butter on one side of one slice of bread. Top with sliced banana, then slices of cooked bacon. Cover with the other slice of bread. Spread butter on the outside of the sandwich.
Heat a skillet over medium heat. Fry the sandwich on each side until golden brown and peanut butter is melted, about 4 minutes total.
Banh Mi

Prep – 10 mins. | Cook – 5 mins.
Ingredients
• 4 boneless pork loin chops, cut 1/4 inch thick
• 4 (7 inch) French bread baguettes, split lengthwise
• 4 teaspoons mayonnaise, or to taste
• 1 ounce chile sauce with garlic
• 1/4 cup fresh lime juice
• 1 small red onion, sliced into rings
• 1 medium cucumber, peeled and sliced lengthwise
• 2 tablespoons chopped fresh cilantro
• salt and pepper to taste
Directions
Preheat the oven's broiler. Place the pork chops on a broiling pan and set under the broiler. Cook for about 5 minutes, turning once, or until browned on each side.
Open the French rolls and spread mayonnaise on the insides. Place one of the cooked pork chops into each roll. Spread chile sauce directly on the meat. Sprinkle with a little lime juice and top with slices of onion, cucumber, cilantro, salt and pepper. Finish with another quick drizzle of lime juice.
Cucumber Sandwich

Prep – 20 mins.
Ingredients
• 1 (8 ounce) package cream cheese, softened
• 1/2 cup mayonnaise
• 1 (.7 ounce) package dry Italian salad dressing mix
• 2 loaves French bread, cut into 1 inch slices
• 2 medium cucumbers, sliced
• 1 pinch dried dill weed
Directions
In a medium bowl, mix together the cream cheese, mayonnaise and Italian dressing mix. Refrigerate for at least 6 hours, or preferably overnight.
Spread the cream cheese blend onto slices of French bread. Top with a cucumber slice, and sprinkle with dill. You can make as many or few as you like. the cream cheese mixture keeps for about a week in the refrigerator so you can make them over and over again!
Visit PleasureLand RV Center
Visit PleasureLand RV Center before you head out on your next RV adventure. Don't get caught off guard by unforeseen mechanical problems. Let our technicians sign off on your rig and hit the road with the peace of mind that you're set to handle whatever the journey throws your way.