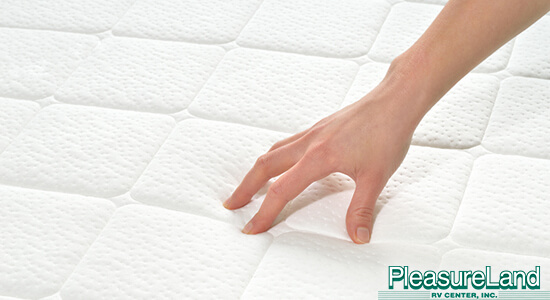 November is National Sleep Comfort Month, and that means more to RV travelers than most. Whether you're cruising in a truck camper or a Class A motorhome, it's likely the mattress that came with your RV isn't perfect for you. But you don't have to endure long nights with little sleep whenever you travel.
The following mattress options will help you create a sleeping experience in your RV that is as good as what you expect at home.
Use a Memory Foam Topper
Turn a thin, uncomfortable mattress into your own memory foam mattress with a memory foam topper. This inexpensive solution to purchasing a pricey and extremely heavy memory foam mattress can be used in just about every RV, ranging from pop-up campers to motorhomes.
Sleep Number RV Premier by Select Comfort
These days, you don't even have to settle for a foam topper to make your RV mattress more comfortable. A number of major mattress brands are producing special mattresses strictly for RVs. The Sleep Number bed by Select Comfort has now been created in a special RV size. This means you and your partner can fine tune your sleeping experience at the push of a button. It's not the cheapest option, but it's an ideal one for travelers living full-time life on the road.
DreamAire RV Bed
The DreamAire RV Bed is a unique and ultra comfortable RV sleeping solution that can be purchased for less than $1,000. The DreamAire features two independent air chambers that offer adjustable comfort for each side of the bed. The wireless remote offers 100 comfort settings, so you never have to sacrifice sleep for travel.
Upgrade Your RV at PleasureLand
The PleasureLand RV Center is the No. 1 place to upgrade your RV. Give us a call or stop in and see us to find out how we can improve your RV sleeping experience before you hit the roads for the snowboard season.