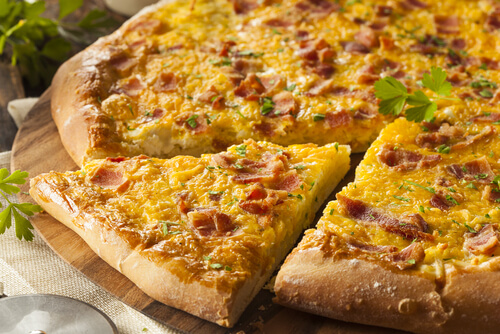 If you're tired of the same old breakfast fare, try making this delicious and filling breakfast pizza. It's also low-carb as a bonus, if that's a dietary restriction that you have, though from the taste you won't be able to tell!
Ingredients
12 eggs
½ cup cream
½ teaspoon salt
¼ teaspoon pepper
8 oz sausage
2 cups peppers, sliced
1 cup cheese, shredded
Directions
Preheat oven to 350 degrees.
Add peppers to microwave for 3 minutes.
Brown sausage in cast iron skillet.
Take out and set aside.
Mix eggs, cream, salt and pepper together and add to skillet.
Cook for 5 minutes until the sides start to set up.
Add to oven and bake for 20 minutes.
Take out and add sausage, peppers and cheese.
Set under broiler for 3 minutes.
Let sit for 5 minutes.
Visit PleasureLand RV
Stop by PleasureLand RV Center this spring or summer to shop for a new or used motorhome or travel trailer. While you're here, you can tour the various models and floorplans on the lot and find the one that's perfect for you. PleasureLand RV Center can also help you with RV service, parts, and accessories.