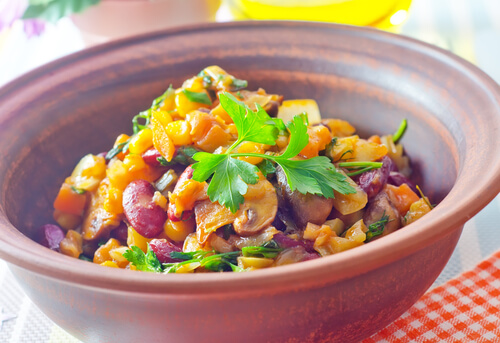 The summer RV season is here and that means its time to enjoy some meals outside at the campsite. These delicious summer eats are easy to make in the comfort of your RV, and they're so delicious your family and friends will be coming back for seconds.
Exotic Summer Salad
What you'll need:
1 can sliced mushrooms (drained)
1 can artichoke hearts (drained)
1 can hearts of palm (drained and sliced)
1 can black olives (drained and sliced)
1 can baby corn (drained)
1/2 cup olive oil
1 clove garlic (minced)
1/4 cup fresh lemon juice
2 sprigs fresh parsley (chopped)
4 leaves fresh basil (chopped)
salt and pepper to taste
Preparation instructions:
Combine the mushrooms, artichoke hearts, hearts of palm, olives and baby corn together in a large bowl.
In a separate small bowl, mix the olive oil, garlic, lemon juice, parsley, basil, salt and pepper together thoroughly.
Pour the dressing over the vegetables, mix and chill for two hours before serving.
Pork with Peach and Black Bean Salsa
What you'll need:
1 pound pork tenderloin (cubed)
1/4 cup cornmeal
1 tablespoon olive oil
1/4 cup beer
1 cup prepared salsa
salt and pepper to taste
1 tablespoon fresh cilantro
1 can peaches (sliced and drained)
1/2 can black beans (drained and liquid reserved)
Cooking instructions:
Season the cubed pork meat with salt and pepper to your liking.
Place the meat in a large plastic bag and pour the cornmeal into the bag. Shake until coated.
In a large skillet over medium-high heat, warm the olive oil and saute meat until browned (about 10 minutes). Lower heat to medium.
Pour the beer, peaches, salsa and beans into the skillet with 2 tablespoons of black bean liquid.
Stir thoroughly and let simmer for roughly 20 minutes. Stir in the cilantro and serve.
Visit PleasureLand RV Center
There's no better place to start your summer RV adventures than right here at PleasureLand RV Center in Minnesota. We have all of the new and used RVs, parts, accessories and camping supplies you need to live your dream RV lifestyle.