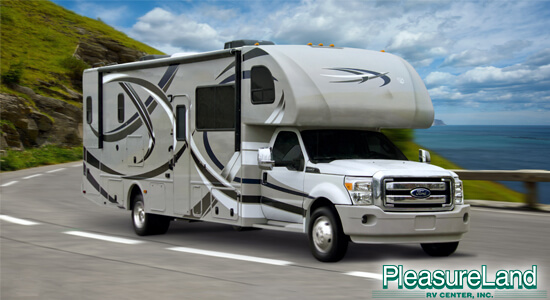 Interested in starting your RV lifestyle? Or searching for an alternative vacation without costly plane tickets? Rent an RV from PleasureLand for your spring getaway, and you'll quickly realize all of the joys of the RV lifestyle.
Renting an RV is the perfect way to get a feel for the RV lifestyle and which RV suits your family's needs. It's also the perfect way to save big bucks on an otherwise costly vacation. The following are some of the reasons you should choose to rent an RV this spring.
It's Cost Effective
By the time you plan your spring vacation with costly plane tickets for the entire family, hotel rooms and money budgeted for eating every meal out, it becomes hard to imagine relaxing with so many expenses to pay. When you rent an RV, you can forget about plane tickets, hotel reservations and unbearably expensive meals. An RV allows you to travel together in one vehicle, cook family meals inside your RV and sleep comfortably wherever you decide to park.
It Gives You Freedom
Traveling by plane can be a major hassle, especially if you're traveling as a family. TSA checkpoints take time, the lines are long and there are so many stresses associated with making your flights on time. renting an RV gives you the freedom to travel as you please and stop for breaks or sightseeing whenever you desire. Forget about dinner reservations, canceled flights and checking out of your hotel room on time; your RV is your mobile vacation home.
Test Out the RV Lifestyle
In addition to being an ideal way to enjoy a vacation, renting an RV gives you an opportunity to experience the RV lifestyle before you by. You can try renting a number of RV types to discover which RV suits your needs. PleasureLand RV Center offers Class A motorhome, Class C motorhome, travel trailer, fold down and ice house rentals with unlimited mileage, so you can get out and discover what the RV lifestyle is all about.