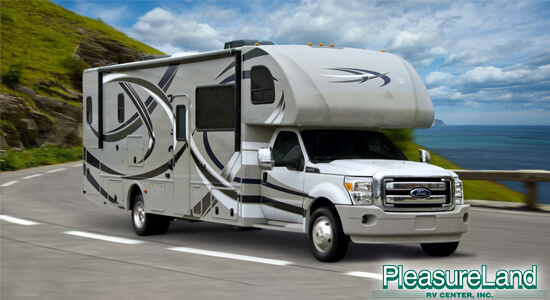 The summer camping season is just around the corner, and that means its time to start planning your summer RV adventures. But what if you don't have an RV?
You can plan a summer RV adventure, without actually owning an RV, by renting one from us at PleasureLand RV Center. We offer a huge variety of Class A motorhomes, Class C motorhomes, travel trailers, pop-up campers, ice houses and cargo trailers for low rental prices, so you can get outside and make the most of the summer camping season.
Why Rent an RV?
Many travelers have never considered renting an RV instead of taking a traditional road trip or flight. renting an RV is an affordable and less stressful alternative to the traditional types of travel. Forget about expensive summer hotel rates, traveling on tight deadlines, airport security and crowded restaurants, your RV is your home away from home, with everything you need to sleep and live in comfort.
Where Can You Take Your Rental RV?
Our rental RVs are ready to go anywhere, from Nascar races to national parks, music festivals and road trips with no destination at all. PleasureLand RV Center includes mileage to almost any destination, so you don't have to worry about added fees once you hit the road.
Our Summer 2015 RV Rental Special
We're so excited about the summer of 2015 camping season, that we're starting an unbelievable special on all motorhome rentals. We're offering unbeatable rates that are suitable for every budget, included mileage, no hidden fees, a brand-new rental fleet and an even larger selection of floorplans and styles than ever before.
Start the Rental Process Now
It's never to early to plan your summer RV vacation. Log onto our PleasureLand RV Center website and click on the "Rentals" tab to start the RV rental process. A rental request takes just a few minutes to complete, and we'll respond in less than 24 hours to help get your reservation set in stone.