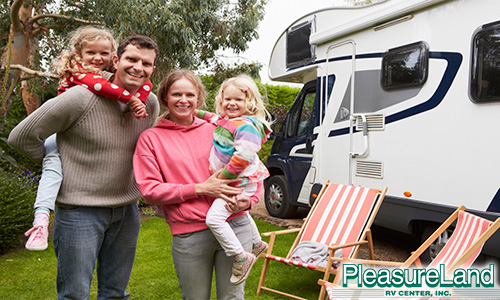 Now that you've purchased your first RV, it's time for the learning curve. Since this is the first time you'll be heading out in an RV – unless you went RVing with your parents – you may want some tips to make your trip less stressful. The first time you forget something, it's not so bad, but by the time you're three days into a trip and find out you didn't do something before you left – like fill the propane tanks – or you forgot something else – like the chemicals for the toilet – you're going to blow your top.
About a week before you leave for your trip, make sure all systems are working properly. Check the plumbing, the hot water heater, the fridge, stove, heat and air conditioning unit. If you have a brand new RV you shouldn't have any trouble with these things, but it's always better to be safe rather than sorry. If you are uncomfortable checking things yourself or if you do find a problem, bring your RV to the service center at PleasureLand RV Center.
To check the stove and possibly the heat, you'll need propane, so this time would be a good time to ensure that both bottles are filled. Remember to turn the tanks off when you are done testing as it's not safe to drive around with open propane tanks.
Make a list of things to pack. When you list your clothing, be sure to bring season-appropriate clothing. Don't forget boots and rain gear. If you are camping in the winter, be sure to pack extra clothing. If you are going to be outside in the snow, you'll want something warm to change into.
When you make your food list, it is easier to plan meals rather than to just make a list. This way, you are sure to not forget something for a specific meal. If you plan on making something complicated, use the recipe to add to your food list.
Since freezer space is limited in most RVs, buy meat as you normally do, but remove it from the store packaging. Pack it in zippered freezer bags – you'll fit more into the freezer. Pack a cooler with ice for meat, soda and other perishables you will use during the first couple of days – you'll have more space in the fridge and freezer. If you pack the meat in the cooler while it's frozen, it will stay cold for a couple days. It may even be frozen on the second day.
Stop by PleasureLand RV Center for any accessories or parts you may need for your trip or to get your RV checked before you leave.