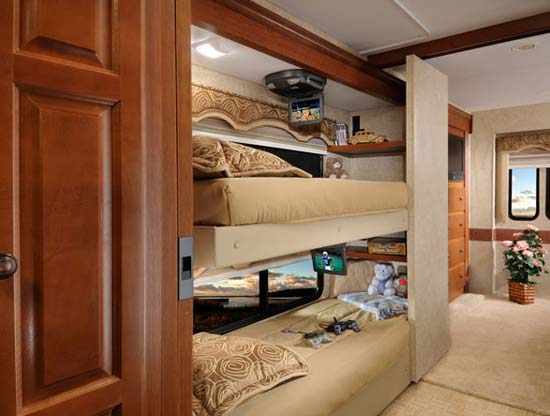 If you are spending a lot of time on the road in your motor home , travel trailer or fifth wheel , then you already know how important your level of comfort is when it comes to the bedroom. Whether it's time to replace your old mattress (rule of thumb is about every eight years for household mattresses) or you simply want to upgrade to higher quality mattress, you'll need to know a few things first.
To start, let's figure out exactly what size area we are working with. RV mattresses are typically shorter than your average household mattress for obviously reasons. So you won't be able to just go out and buy any old queen or king mattress. Grab a measuring tape and record the following measurements:
Width – measure from the inside of one side of the mattress to the inside of the other side where the mattress will rest.
Length – measure from top to bottom where the mattress will rest.
Height – measure from the resting area of the mattress to the highest point vertically you want the mattress to reach.
The most common RV mattress sizes are listed below. Use your length and width measurements you just took to determine the best fit.
Queen Short: 60″x75″
Three Quarter Size (also known as an antique size): 48″x75″
Twin Size: 38″x75″
RV King: 72″x80″
Regular Queen: 60×80
Full Size: 53″x75″
Regular King: 76″x80″
If you are looking to replace a mattress in the bunk in your RV, then you'll need a different type of mattress – a truck mattress. Here are the most common sizes for truck mattresses.
42″x80″
38″x80″
32″x79″
36″x76″
35″x79″
Don't forget to write the size you decide on down somewhere. You'll also need it to buy that super soft new set of sheets you've got your eye on.
Now that we've determined what size mattress you'll need, let's talk about options. Did you know that Select Comfort makes the sleep number mattress for RVs? Or maybe you're looking for a tempur-pedic mattress. They come in RV sizes, as well. Happy hunting, Minnesota RVers! You've got a little shopping to do!
If you need any help at all determining the size of the area, give Pleasureland RV a call or swing by one of our four Minnesota RV dealerships.
[Source: TheFunTimesGuide.com]