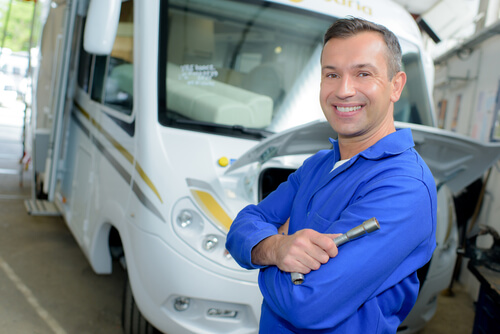 Your RV is your gateway to adventure, travel, family time, and fun, so taking proper care of your RV will allow you to enjoy the benefits of the RV lifestyle year after year. Fortunately, we make taking care of your RV easy here at PleasureLand RV Center. Bring your RV to our PleasureLand service center, and we'll ensure your home on wheels is in top shape for the summer camping season.
Our Service Center
PleasureLand RV Center offers one of the most complete RV repair and service facilities in the country. Our expert technicians give you the proper advice to help you handle all of your RV concerns, whether your recreational vehicle is in need of repair, maintenance, warranty work or upgrades. Our service center is equipped with 32 service bays and the most experienced technicians, so you can trust PleasureLand for your RV's electrical work, appliance servicing, body work, engine maintenance and so much more.
RV Parts and Accessories
PleasureLand RV Center features two Camper's General Stores; one in the Ramsey location and one in St. Cloud. The stores are the largest RV parts and accessory suppliers in the region, so when your RV calls for a part, you know exactly where to go. And if you're not in reach of one of our Camper's General Stores, you can log onto our online parts store and shop 24 hours a day, seven days a week. We'll ship your new RV parts, accessories or camping supplies to wherever you're located, so your RV lifestyle can continue without a glitch.
Prepare Your RV Today
Prepare your RV for the spring camping season before it gets started, so you're ready to hit the roads as soon as the warmer weather rolls around. Our service shop and Camper's General Stores are open Monday through Friday from 8 a.m. to 5 p.m. Give us a call at 1-800-862-8603 or send us an email to ask us any questions about your RV or to set up a service appointment today.