The RV lifestyle is romantic for a number of reasons, and when we think of life on the road, we think of the platonic RV, perhaps white and tan with silver trim, a bedroom in the very back and a homey feel to the living room, and of course, the guest bed over the cab. There are some who ride with travel trailers hitched to cars or trucks, but when we imagine the RV lifestyle, we think of a motorhome.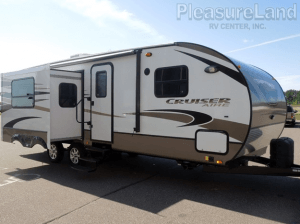 A travel trailer may be worth considering, though, if you're looking for a new vehicle to hit the road with. Here are a few of the things that a travel trailer can do that a motorhome cannot:
1. Detachability
One of the trickiest things about the RV lifestyle is that it's a major gas expense just to drive from the RV park into town for a few groceries. By hitching your trailer to a truck or a car, you can detach and drive wherever you need to go without the hassle of disconnecting from your hookup or spending the gas to drive your whole house into town to pick up a few steaks.
2. Cost
It varies, of course, and there are cheap motorhomes and expensive trailers, but if you're buying your first travel-home, a trailer might wind up costing you less at the local Minnesota RV dealership than a motorhome.
3. Hooks to Any Compatible Vehicle
A problem with a standard RV is that when the engine is totally shot, you might be stuck somewhere for a long time. When you can simply scrap your junky old truck and attach a new one to your trailer, this is less of a concern, and you don't have to trade in your whole home along with the vehicle that pulls it.
The motorhome is the platonic ideal for the traveler's lifestyle, but the travel trailer has its advantages, as well. Consider the purchase carefully before you go with one or the other.