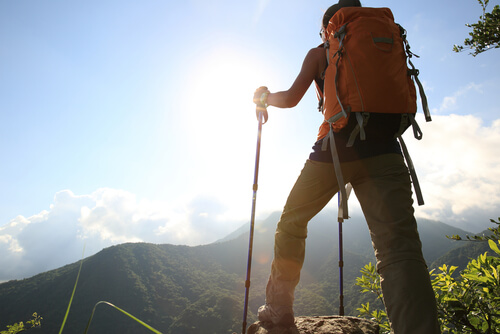 If you're a beginning hiker that's never used trekking poles, it may be because you're not sure what to make of them. What advantages do they confer and are they right for your hikes? If you're thinking about acquiring a pair and taking them out on your next hike, here's how to make the most effective use of them.
They Help Support You
Just like a walking stick, trekking poles times the advantage by two. They're especially useful on treacherous terrain, like loose gravel, wet rocks, or when fording shallow creeks. Not only do they help keep you upright, but they also promote good posture that in turn helps you shoulder your pack better. By putting some of your weight onto the trekking poles via your arms, you take some of the stress off of your legs and back. When you get tired later during an all day hike, you can also rely on them more and more to support you even when your knees are getting tired.
They Come in Handy in Ways You Wouldn't Expect
Having some trekking poles on hand can be unexpectedly beneficial. They can serve as arm extensions if you need to poke something from a distance or attempt to bring something closer. Not that we recommend battling wildlife, but in a pinch they can be used to ward off an aggressive animal when escape isn't possible.
Visit PleasureLand RV Center
There's no better way to travel to your favorite Minnesota hiking trails than in the comfort and convenience of your RV. Stop in and see us at one of our many Minnesota PleasureLand RV Center locations to start your new RV lifestyle today.