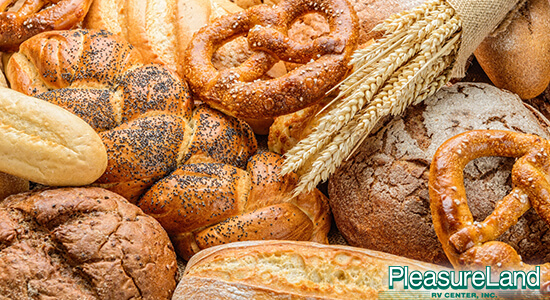 The St. Cloud area is no stranger to delicious eats. In fact, it can be difficult to decide where to dine with so many options available. But when you've got a craving for sweet or savory baked goods, these three bakeries are the ones to visit.
Dutch Maid Bakery
The Dutch Maid Bakery, on East Saint Germain Street in St. Cloud, is one you'll hear the locals raving about. The massive selection of fresh baked goods make it a must-stop location for anyone, whether you're into sweet or savory baked goods. Even better, the Dutch Maid Bakery has been family owned and serving the St. Cloud area for more than 50 years, which means you're getting a true taste of local flavor.
Great Harvest Bread Co.
You can find Great Harvest Brad Co., at 135 Division St., in Waite Park. This bakery chain specializes in delicious, healthy, whole-grain muffins and breads made with fresh Montana wheat. It's an ideal place to grab a loaf of bread before dinner, a mouthwatering sandwich at lunch time or a fresh baked scone for breakfast. If you're trying to stay off the donuts and opt for a healthier morning option, Great Harvest Bread Co., should be on your radar.
Sweet Nature Gluten Free Baked Goods
You don't have to have a gluten allergy to fall in love with Sweet Nature Gluten Free Baked Goods in nearby Sauk Rapids. Visitors rave about the cookies, cupcakes, energy balls, miniature cakes and abundance of other healthy, gluten-free baked treats. Even better, the bakery offers free delivery in Sauk Rapids, so you can have special treats delivered straight to your door during a busy work week.
Stop and see us at the PleasureLand RV Center in St. Cloud, when you're cruising throughout the city in search of mouthwatering baked treats. We're your one-stop RV shop for all of your spring and summer RV needs.