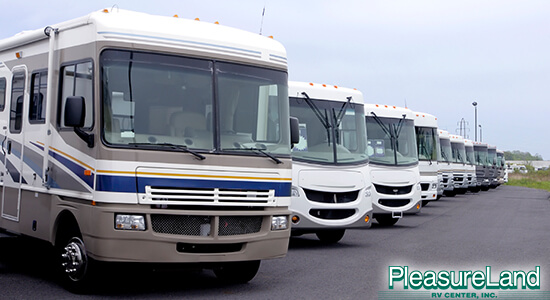 There's no better way to start a new year than with a new RV for your traveling family. However, you don't have to pay new RV prices to enjoy an RV that feels new to you. From Jan. 1 through 3, the PleasureLand RV Center will be holding its annual Giant Pre-Owned RV Sale.
Why Buy Pre-Owned?
Purchasing a pre-owned RV is one of the best ways to save big bucks on an RV that hasn't spent much time on the roads. Travelers can save tens of thousands of dollars on some of the world's top RVs that are currently in like-new condition. Also, new RV travelers will find unbeatable deals on RVs that are less than $10,000, which means they can start an RV lifestyle without breaking the bank.
Sale Details
PleasureLand RV Center's Giant Pre-Owned RV Sale is admission-free and open to the public. The sale will be held from Jan. 1 to 3, from 10 a.m. to 7 p.m. on Friday through Saturday, and 11 a.m. to 5 p.m. on Sunday. The sale will be held at the St. Cloud River's Edge Convention Center. Pre-owned inventory from all six PleasureLand RV Center locations will be brought to the event.
Other Ways to Save
We understand that not all RV enthusiasts will be able to make it the River's Edge Convention Center in St. Cloud this upcoming weekend. However, you can find a huge selection of new and pre-owned RVs from all of our locations on our PleasureLand RV Center website. You can shop for the destination trailer, travel trailer, fifth wheel, motorhome or pop-up of your dreams simply by logging online and viewing our pre-owned inventory.
We make it easy for you to apply for financing and contact our sales team online, so you don't miss out on any of our incredible deals to kick off 2016.