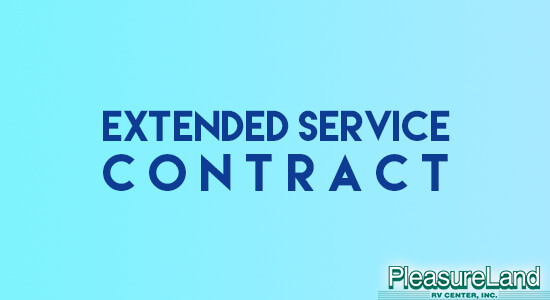 There's no better place to buy a new RV than here at the PleasureLand RV Centers in Minnesota. Many shoppers already know that we're always stocked with the highest-quality motorhomes and towable RVs in the industry. However, some are unaware that we provide the most stress-free RV buying and ownership experiences available. Our extended service contracts are part of what make RV ownership with a PleasureLand RV so enjoyable.
What Is an Extended Service Contract?
An extended service contract is a way to ensure that you enjoy worry-free travel. The extended service agreement we offer, provided by Protective Xtraride, means you enjoy exceptional and efficient claims handling wherever you are in the U.S. or Canada. The agreement is also transferable, increasing the resale value of the RV on which it is purchased. The XtraRide extended service agreement is the only RVDA endorsed service contract available, which means you know you're getting the best extended service policy in the industry.
What's Covered?
The XtraRide service contract extends the length of your RV's coverage for mechanical breakdowns. This policy far exceeds the length of your manufacturer's warranty, so you enjoy peace of mind long after your new RV is purchased. Travelers with motorhomes or towable RVs can enjoy new and used coverage terms from 90 days/3,000 miles all the way to 7 years/150,000 miles. Motorhomes and towables with an age of up to 13 previous model years can be covered.
Additional Benefits
The XtraRide extended service agreement also provides tire and wheel coverage, including the cost of unexpected problems caused by potholes, jagged metals and nails. In addition to coverage, travelers enjoy 24/7 towing and roadside assistance, concierge service, technical support and reimbursements for travel expenses, fuel and gas replacement and more.
The benefits of purchasing an extended service agreement from PleasureLand RV begin immediately, so you can enjoy the perks of peace of mind and country-wide travel safety without having to wait.