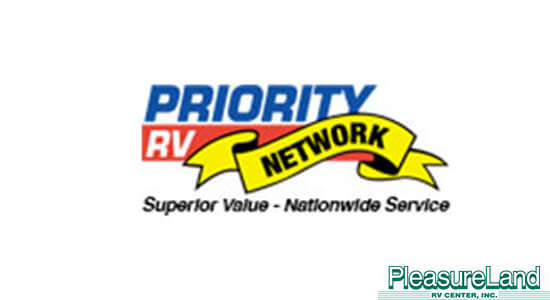 When you're traveling the country, you won't always be within reach of one of our PleasureLand RV Center locations. That's why we're a part of the Priority RV Network, featuring more than 100 service location nationwide. The Priority RV Network allows you to travel with peace of mind, knowing that a reliable and affordable RV service team is always nearby.
What is the Priority RV Network?
The Priority RV Network is the No. 1 selling RV dealer group in the entire world, with 107 locations in the U.S. alone. The network is a group of RV dealers that offer a long list of services to RVers in need. When you purchase an RV from a Priority RV Network dealer, such as the PleasureLand RV Centers, you gain access to all of the service centers, dealerships and parts shops within the network. That means you know you're enjoying top-notch service at the best prices everywhere you travel.
Technical Support and Roadside Assistance
Having an RV emergency? Don't worry. Priority RV Network dealerships offer Priority RV Road Care, which means you can take advantage of technical support and roadside assistance 24 hours a day and 7 days a week. The Priority RV Network even offers a concierge service that will help you locate activities near you or even make dinner reservations, so you don't have to.
The Best RV Insurance
Vehicles purchased from a Priority RV Network dealership enjoy access to the best RV insurance in the industry, Priority RV Insurance. This insurance is designed specifically for RVs, so everything is covered from dents and dings to the personal belongings inside your RV. Priority RV Insurance can produce a quote in 10 minutes and bind the coverage to your RV immediately.
The PleasureLand RV Centers throughout Minnesota are all Priority RV Network dealerships. When you shop with us, you're getting far more than a top-quality new or pre-owned RV.