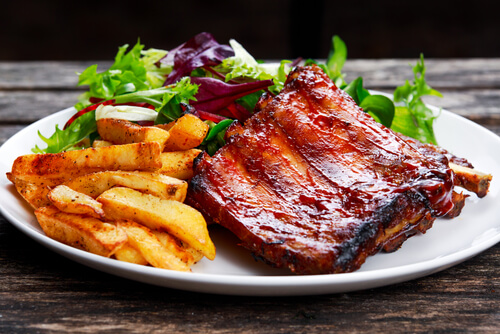 A steak dinner is an iconic piece of the American dining scene, and Minnesota is home to some of the best steakhouses in the country. Whether you're headed out on a first date, enjoying an anniversary dinner or are simply in the mood for a mouthwatering Minnesota steak, these three steakhouses are the best of the best in the Land of 10,000 Lakes.
Mancini's Char House and Lounge
Mancini's Char House and Lounge is the place to be in Saint Paul if you want a classy atmosphere with one of the top steaks in the state on your plate. Unbeatable service, classy retro decor and an emphasis on serving up the best steaks in the area, sets Mancini's apart from the rest. Even better, Mancini's doesn't break your bank with high prices, so you can enjoy a mouthwatering, five-star meal without worrying about your budget.
Burch
Burch is a classic steakhouse on Colfax Ave., in Minneapolis that has become one of the most famous in the state. They serve up the classic cuts as well as innovative cuts many have never seen, so there's always something new to try. The steakhouse's ambiance makes every visit a special one, and it's a place you can take even the pickiest steak lover.
Lindey's Prime Steak House, Restaurant and Bar
Lindey's Prime Steak House, Restaurant and Bar is a delicious steakhouse without the high prices and sometimes stuffy feel. It's a small, casual place that focuses on flavor rather than promoting a swanky atmosphere. The sirloin steak is their famed cut, and there's no doubt you'll leave feeling full and satisfied. The laid back atmosphere also means you don't need to dress up, so you can just kick back, relax and enjoy a delicious meal.
Stop and See Us at PleasureLand
Don't forget to stop and see us at the PleasureLand RV Centers when you're cruising throughout the Land of 10,000 Lakes in your RV. We have everything your RV lifestyle needs from new and used RVs to service, parts, accessories and so much more.