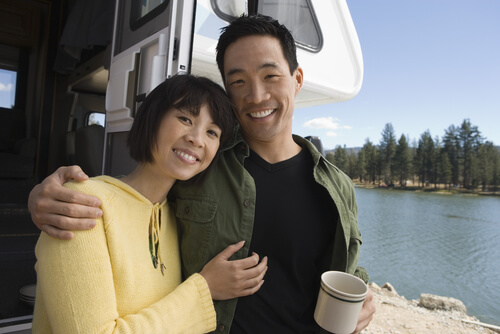 Traveling the country in your RV with a partner is one of the most enjoyable things in the world… or one of the most frustrating! Depends on the day, really. While you might get along most of the time, there's something about being in close proximity with another person for days, weeks, or even months without pause that can really leave you feeling like your buttons are being pushed.
RVs mean unrivaled intimacy due to the face that they're both your means of travel and your living quarters all in one compact package. To prevent yourself from becoming tired of your partner, it's important to practice certain habits to distance yourself when need be.
Headphones Are Everything
There's nothing better at creating an immediate barrier between yourself and another person than a good pair of headphones. Whether you need to cool off or simply need some alone time, headphones provide it. Listen to some music you like, catch up on an audiobook or podcast, or watch some videos. After some "alone" time, you can rejoin your partner by simply pulling the earbuds out.
Have Your Own Interests
Sure you're traveling together and doing pretty much everything else together, but you should definitely bring along some personal hobbies with you on the road. Just like practicing them at home, your hobbies allow you to have that stress relief that only comes from doing something you love on your own. Whether it's calligraphy, photography, writing, scrapbooking, knitting, or whatever else, don't leave your hobbies behind.
Keep Lines of Communication Open
No matter how annoyed you are or even angry, it's crucial that you keep communication open with your partner. While the silent treatment might sound appealing, there's no chance that fences will be mended if you don't talk. On that note, don't stay angry with your partner. You're on the road with them with nowhere to go, so make the best of any situation and let go of any anger you're harboring.
Visit PleasureLand RV Center
Stop by PleasureLand RV Center this fall to tour a new or used motorhome or travel trailer. Find one that's perfect for you and your travel plans this fall. If you're not on the market for an RV, you can still stop in at PleasureLand RV Center to schedule service, to learn more about RVing, or to shop for parts and accessories.