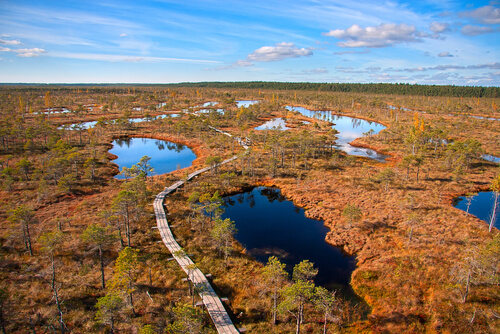 Big Bog State Recreation Area has been called Minnesota's last true wilderness. This two-part recreation area includes a northern unit and a southern unit.
The 500-square-mile peat bog, the largest in the lower 48 states, is located in the northern unit. A mile-long boardwalk, completed in 2005, enables visitors to get a first-hand look at the unique plant and animal life of this rare resource. The bog, which has long been a source of medicinal plants for the Ojibwe Indians, represented a barrier to European settlers who tried in vain to drain it. Today, many of the native plants, including yellow-eyed grass, bog rush and two kinds of sundews, are on Minnesota's endangered or threatened species list. From orchids to carnivorous plants to rare birds, visitors will see a mixture of fascinating and rare resources.
The southern unit includes a campground with 31 campsites (26 electric sites) winterized camper cabins, a sandy beach, picnic grounds, and great fishing.
The park offers a rare opportunity to check out a landscape you've probably never explored before. Learn more about the bog, the plantlife that resides there, and the history of the region when you visit.
The park comprises over 9000 acres and receives close to 100,000 annual visitors.
Visit PleasureLand RV Center
Stop by PleasureLand RV Center today before you hit the road to any destination, such as Big Bog State Recreation Area. Tour a motorhome or travel trailer and find the one that's perfect for you or schedule some maintenance service with our PleasureLand RV Center technicians.