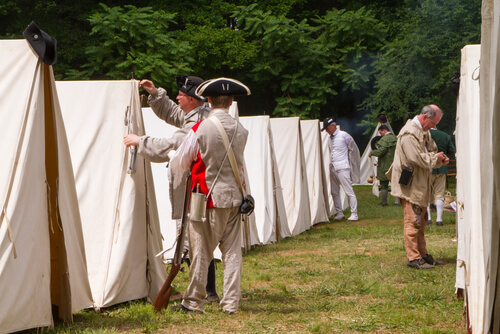 Everyone is, at one time or another, a bit of a history nerd. Whether that's all the time for you or only occasionally, RVing is a great way to hit up some of the country's most historic sites, soak in the history, and learn more about what happened in each locale.
If you're traveling the east coast this winter or spring, plan to stop in at these historic sites if the "history bug" bites.
Colonial Williamsburg, Williamsburg, Virginia
One of the east coast's most popular historic sites, Colonial Williamsburg is a living museum unlike any other. Get an intimate look at how colonial Americans lived and worked in the years leading up to the American Revolution.
Colonial Williamsburg is the size of a small town and has everything that a small town would need during the mid-1700s in order to survive, including shops, taverns, a courthouse, artisans, and homes.
Professional reenactors dressed in authentic period costumes populate the town, demonstrating life as it would have been in colonial America and informing guests on what they're doing and how it fits into the town as a whole.
There are daily shows in Colonial Williamsburg as well, including a courthouse trial that allows guests to participate in the proceedings.
General admission is $40.99, $20.49 for children, and free for those 5 years and younger.
Jamestown Settlement, Williamsburg, Virginia
Also located in Williamsburg, Jamestown Settlement shifts its focus to an earlier time; instead of life leading up to the American Revolution, Jamestown portrays the earliest colonists in the New World, before even the pilgrims had arrived.
The museum at the site details the lives of settlers, gives biographical information on specific settlers, and discusses the native tribes in the area and how the colonists affected them.
There are settler ship replicas docked at the settlement that allow you to tour them in addition to the settler and native villages. All contain reenactors and interactive exhibits.
Admission is cheaper at Jamestown Settlement; general admission is $17 for adults, $8 for kids, and free for those 5 and younger.
American Revolution Museum at Yorktown, Yorktown, Virginia
The main draw here is the military camp that recreates what it would have been like during the Revolutionary War. Visitors can tour various tents in the camp and there are reenactors sprinkled throughout who can answer your questions and provide demonstrations, including how muskets worked or how the soldiers prepared food or spent their free time.
Also on site is a tobacco plantation, which demonstrates how a plantation worked and the process for growing and selling tobacco (as well as tobacco's importance to the colonial economy), and a museum that possesses tons of information on the Revolutionary War, which is presented through exhibits, videos, and artifacts.
Admission is $12 for adults, $7 for kids, and free for those who are 5 or younger.
Visit PleasureLand RV Center
Stop by PleasureLand RV Center this winter to tour a new or used motorhome or travel trailer. Find one that's perfect for your travel and vacation plans and leave the lot in your new RV today. Not on the market for a new RV? PleasureLand RV Center can help you with RV service, parts, and accessories too.