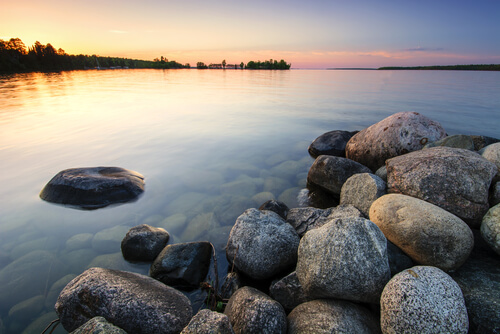 Looking for a nearby spot to camp and enjoy some outdoor recreation, perhaps for spring break? If you're centered in Minnesota or plan on passing through soon, check out Lake Carlos State Park.
Sculpted by ancient glaciers, Lake Carlos State Park contains a tamarack bog, marshes, woodland ponds, and lakes.
A variety of recreational activities revolve around the lake. Clear and deep, Lake Carlos offers visitors a perfect setting for swimming, fishing, boating, camping, hiking and horseback riding. In the winter, ski from the tamarack bog to a maple-basswood forest.
Away from the lake, hiking is an especially good activity. Trails lead through Lake Carlos's tamarack bog, which is carpeted with showy lady's slippers, pitcher plants, dragon's mouths, grass pink, and insect-eating sundews. Most flowers start to bloom in the bog between late spring and early summer.
Birdwatchers will also love the lake, as it offers a unique ecosystem with eagles and ospreys. Other common birds in the spring include the red-eyed vireo, tree swallow, red-breasted nuthatch, American robin, yellow-rumped warbler, indigo bunting, swamp sparrow, blue-winged teal, ruby-throated hummingbird, and many more.
Free WiFi is available at the campground and Visitors Center. The park's hours are from 8am to 4pm daily.
Visit PleasureLand RV Center
Stop by PleasureLand RV Center before you visit Lake Carlos State Park or any other destination in Minnesota. PleasureLand RV Center offers RV sales, service, parts and accessories in Minnesota. See us in St Cloud, Brainerd, or Ramsey today!