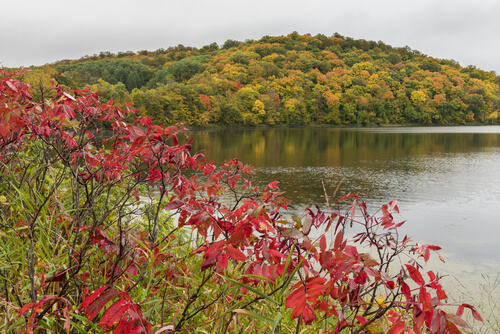 Looking for that fall color in Minnesota? Just look around you. If, however, you want to find some of the best fall foliage in the state, look no further than Maplewood State Park. The maple tree forest turns into brilliant shades of red, orange, and gold in the fall and the scenery is absolutely phenomenal when paired with the eight major lakes and dozens of ponds dappled throughout the park.
These lakes and smaller bodies of water make Maplewood State Park a prime location for fishing, boating, and swimming (though the water is probably a bit nippy in the fall!). Even if it's too late in the year for jumping into the water, there are plenty of sandy beaches and expansive picnic areas that you can take advantage of on a lovely fall day.
The park is also home to an extensive trail system, perfect for hiking, horseback riding, and even cross-country skiing later in the year. There are also vehicular routes that run through the park that lead to scenic overlooks.
However you choose to see the park, wildlife is abundant and makes observation easy. From 150 species of birds that call the park home to the 50 species of mammals (including raccoons and beavers), you're likely to encounter a few natives as you tour the park's ten thousand acres.
Visit PleasureLand RV Center
Stop by PleasureLand RV Center before you hit the road for Grand Portage State Park or any other destination in Minnesota or beyond. Whether you need to shop for a new motorhome to take you to all of your favorite summer vacation spots or have an RV already and need it to be checked out before you embark, PleasureLand RV Center can help.