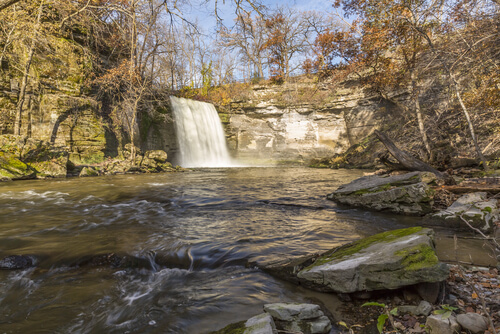 The word Minneopa comes from the Dakota language and is interpreted to mean "water falling twice," referring to the beautiful waterfalls of the Minneopa Creek.
Visitors can walk the trail that encircles the falls, which leads down a limestone stairway to the valley below, and then ascend the opposite side and enjoy a panoramic view of the valley that reveals the underlying geology of this area.
Visit Seppmann Mill, a wind driven grist mill fashioned in German style from native stone and lumber, or hike through oak savanna and native prairie grasslands overlooking the scenic Minnesota River Valley.
The southern part of the park is hilly and wooded, with Minneopa Creek and its waterfalls as the major feature that attract visitors. The northern sections of the park feature prairie and the Minnesota River. Once the land was tall-grass prairie, interspersed with marshes, lakes and streams. Today, extensive farming has replaced the prairie with cultivated fields.
The park is home to a variety of wildlife, including wild turkey, ring-necked pheasants, and white-tailed deer. There are also various beaver, various snakes, and waterfowl that call the park home.
The park gets nearly 200,000 visitors per year who come to explore its 2,600 acres of land and water.
Visit PleasureLand RV Center
Stop by PleasureLand RV Center before you hit the road for MinneopaState Park or any other destination in Minnesota or beyond. Whether you need to shop for a new motorhome to take you to all of your favorite fall vacation spots or have an RV already and need it to be checked out before you embark, PleasureLand RV Center can help.