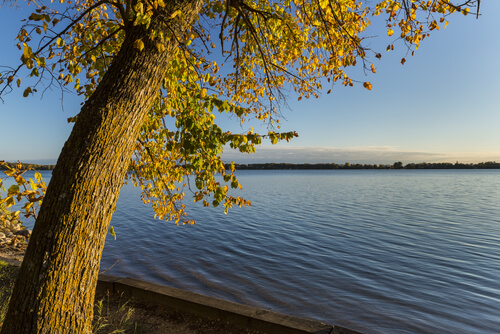 Minnesota is full of wonderful state parks to explore, and they're especially lovely in the summer. Sibley State Park has something for just about everyone.
The park, located in west-central Minnesota, is a popular destination, drawing over 300,000 visitors annually. Sitting on over 3,400 acres it's home to Mount Tom (the highest point in a 50-mile radius), forests, prairie knolls, and lakes. In the summer, visitors can expect to enjoy swimming, boating, and fishing on the largest lake, Lake Andrew. Canoe routes are charted on Henschien Lake and Swan Lake. The park also offers campgrounds, a group center, horseback camps, picnic areas, and interpretive ranger programs year-round.
The landscape is dominated by oak, red cedar, ironwood, green ash, aspen, maple, and basswood. Wildlife includes white-tailed deer, red and gray fox, coyote, raccoon, ruffed grouse, chipmunks, red and gray squirrels, mink striped skunks, badgers, and woodchucks.
Visit PleasureLand RV Center
Stop by PleasureLand RV Center this summer to tour a new or used motorhome or travel trailer. Find one that's perfect for you and your travel plans this summer. If you're not on the market for an RV, you can still stop in at PleasureLand RV Center to schedule service, to learn more about RVing, or to shop for parts and accessories.