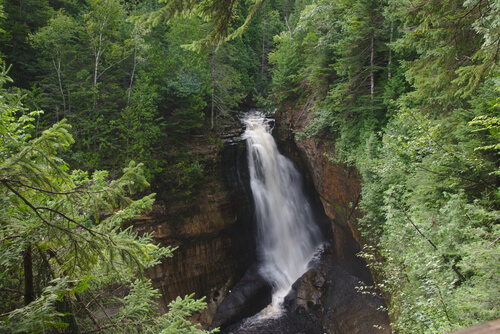 Voyageurs National Park, near International Falls, Minnesota, is easily one of the state's best parks. Established in 1975, the park's name commemorates the voyageurs, who were French-Canadian fur traders who were the first European settlers to traverse the region. The park is hilly and full of waterways, with steep rock cliffs and lush forests. It's a popular destination among water enthusiasts, especially canoeists and kayakers, as well as fishermen.
Park Details
Voyageurs National Park is open in all seasons; however, the Rainy Lake Visitor Center is closed on Mondays and Tuesdays from Jan. 9 to May 21. The Kabetogama Lake Visitor Center and Ash River Visitor Center are closed from late September through late May.
There are no fees to enter Voyageurs National Park. However, the campground does require campers to register and pay an amenity fee. Pets are allowed in many areas of the park, including the Frontcountry campsites. They are not allowed in the Backcountry campsites on the Kabetogama Peninsula. Pets must be under control and on a 6-foot leash at all times.
Things to Do
There's no shortage of things to do at Voyageurs National Park during the spring and summer. The park is full of hiking trails, with over 50 miles of well- marked and maintained paths. If you're interested in long-distance backcountry backpacking hikes, you're in luck: some of the trails are long enough to keep you busy for days.
If you've got a boat towing behind your RV, Voyageurs National Park is the perfect place to use it. In fact, those who boat, canoe, or kayak are in the best position to get the most out of the park since there are numerous islands out on the lakes throughout. These are only accessible by watercraft, but are open for exploration to those who can reach them. If you don't have a boat along, you can always rent one from the rental service available throughout the park. Whether you own or rent, if you want to get the most out of your visit it's advisable that you take to the water at some point. If you visit during the summer, however, you can use the shuttle service with a park ranger guide to see some of the more notable islands.
For your own safety, be sure to consult with a ranger before you take your canoe or kayak out: the waterways of the park have hazardous rocks just beneath the surface and only about 10% are marked. A ranger can advise you on the safest routes to travel.
Stop and See Us
Looking for the ideal motorhome or travel trailer for your 2018 travels? PleasureLand RV Centers, located throughout Minnesota, are loaded with all of the latest and greatest RVs on the market. Stop in and see us in St. Cloud, Ramsey, Brainerd, or Long Prairie to view our selection of new and used RVs today.