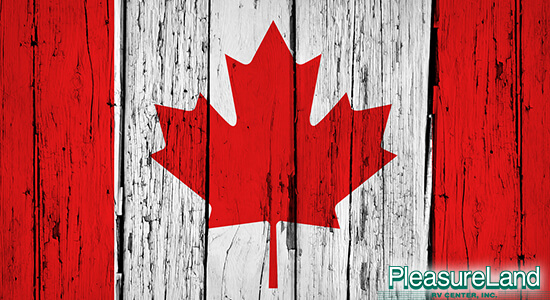 Here at the PleasureLand RV Center, we cater to our customers north of the border. We know that purchasing an RV in another country and returning it to Canada may sound intimidating at first. However, we make the process just as easy as buying at home. Even better, you'll save big bucks by purchasing your new or used RV from PleasureLand.
This guide will help you understand what we do to provide a stress-free purchasing process and the few simple steps you'll take to transport your RV across the border.
What We'll Do
You don't have to fear buying your new RV in the United States, because our PleasureLand RV Center customer service representatives have years of experience dealing with these types of purchases. We'll provide you with a completed bill of sale, a title or Manufacturer's Statement of Origin, a recall clearance letter and a temporary transit tag that will give you plenty of time to transport your new RV to the border.
We'll also ensure that your vehicle has a visible manufacturers statement of compliance label in tact, and we'll fax all forms that need to be submitted to U.S. Customs and Border Protection for you.
What You Need to Do
Here at the PleasureLand RV Center, we make the border crossing experience easier than ever before. Once you reach the border, you'll simply show the agent your copies of the purchase order, title (or MSO), proof of RV insurance and the recall clearance letter. Then, you'll complete a simple vehicle import form, which the border agent will provide. The agent will collect your border fees and verify that your VIN matches the manufacturer's statement of compliance label. It's as easy as one, two, three.
Start shopping for your new or pre-owned RV today by logging onto our PleasureLand RV Center website, and we'll take care of the rest.