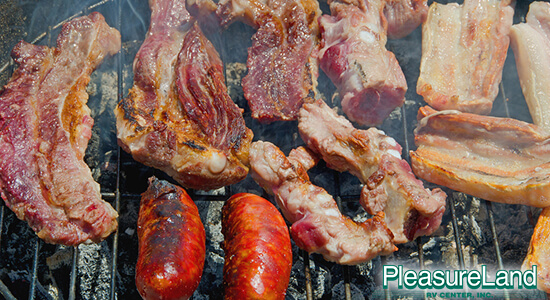 Memorial Day weekend is the unofficial start of summer, and celebrating with delicious grilled eats is a common tradition. These tasty Memorial Day recipes are guaranteed to impress your friends and family at the campsite this year.
The Best Hamburger Ever
Hamburgers are a Memorial Day cookout staple, but these mouthwatering burgers are unlike any you've ever tasted before.
What you'll need:
1/2 pound lean ground beef
1/2 cup shredded Colby cheese
1/2 onion finely chopped
1 teaspoon soy sauce
1 egg
1 teaspoon Worcestershire sauce
1 dry onion soup mix (1 ounce)
1 tablespoon garlic powder
1 clove minced garlic
1 teaspoon dried basil
1 teaspoon dried parsley
1 teaspoon dried oregano
12 teaspoon crushed, dried rosemary
salt and pepper to taste
Cooking instructions:
Preheat your RV's grill to high heat.
While the grill is preheating, combine the ground beef, cheese, onion, soy sauce, egg, Worcestershire sauce, onion soup mix, garlic powder, garlic, basil, parsley, rosemary, salt and pepper in a large bowl.
Form the mixture into four burger patties.
Grill the burgers for five minutes on each side or until they're cooked to your desired temperature.
Serve on grilled buns with your favorite condiments.
Ozarks Potato Salad
What you'll need:
1 large onion, chopped
5 pounds red potatoes
6 hard-boiled eggs, diced
2 1/2 cups Miracle Whip
1/4 cup yellow mustard
salt and pepper to taste
Cooking instructions:
Bring the potatoes to a boil in a large pot, then reduce the heat to medium and allow them to cook until soft (roughly 15 minutes)
Drain the potatoes, remove the peels, cut them into cubes and set aside to cool.
In a large mixing bowl, stir the salad dressing, onion and mustard together. Stir in the hard-boiled eggs and potatoes.
Season with salt and pepper and enjoy.
Start the summer camping season off right with a new or used RV from PleasureLand RV Center. Log online or stop by one of our six locations to find the RV of your dreams today.