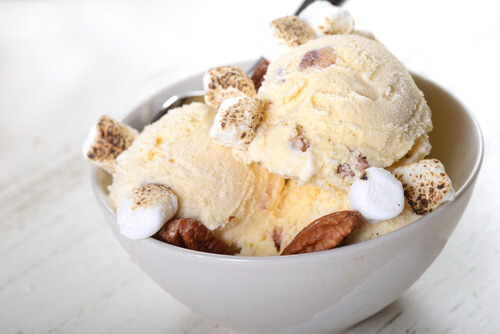 July is National Ice Cream Month, and we can't think of any better way to celebrate than with a mouthwatering and ultra-easy ice cream recipe for your travels. Stock your RV with an ice cream maker, and your family can enjoy tasty and affordable frozen treats any time of day.
Homemade Butter Pecan Ice Cream
This homemade butter pecan ice cream recipe tastes even better than the ice cream shop and costs a fraction of the price to make.
What you'll need:
1/3 cup chopped pecans
1 tablespoon butter
1 cup brown sugar
2 eggs (beaten)
1 1/2 cups half-and-half
1 teaspoon vanilla extract
1/2 cup heavy cream
Preparation instructions:
Cook the pecans in the butter in a small skillet on medium heat. Stir the mixture constantly for 3 to 5 minutes or until they're lightly browned. Set the pecans aside.
Whisk the eggs in a mixing bowl and set them aside.
Stir the brown sugar and half-and-half together in a saucepan. Bring it to a boil on medium-high heat. Remove the half-and-half mixture from the heat and gradually pour it into the eggs. Whisk constantly until the mixture forms a custard.
Move your custard back to the saucepan and cook it while stirring occasionally. Continue cooking until the mixture is able to coat the back of the spoon.
Remove the mixture from the heat and stir in the pecans, vanilla and cream.
Pour your custard into the ice cream maker and freeze it according to the instructions from the manufacturer.
Enjoy on a cone, in a bowl or however you please.
Find Hot Summer Items at PleasureLand RV Center

Whether you're interested in a new or used RV for your summer adventures or something as simple as a few camping supplies to help you make the most of your time outside, we have all of your summer outdoor needs right here at the PleasureLand RV Center in Minnesota.