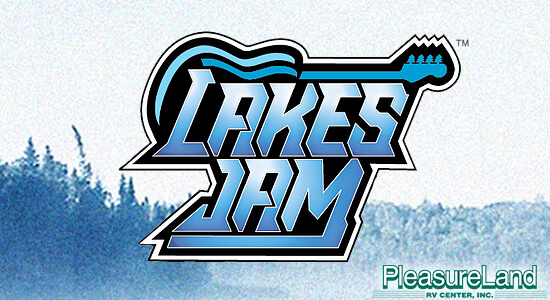 Make 2015 your best camping season yet by taking your RV to Lakes Jam 2015 in Brainerd, Minn. Lakes Jam is the premier rock and country music festival in Minnesota, featuring top names like Don Felder, Lee Brice, Chase Rice, Jerrod Niemann and even more world-renowned acts to be announced. The festival takes place in the gorgeous Brainerd Lakes area, allowing you an unforgettable camping experience and so much fun you'll make plans to come back next year.
The Lakes Jam Festival
The Lakes Jam Festival is unlike any other festival in the country for a number of reasons. Not only does the festival deliver some of the best acts in the country and rock music genres, but visitors enjoy an incredible outdoor experience as well. Golf carts and ATVs are authorized for use at the event, and the Steering Wheel Pass to use them is just $20, so you can enjoy easy access to the shows.
Camping at the Festival
Camping is a big part of the Lakes Jam Festival and RVs are more than welcome on site. The festival offers full-service and general campsites, and campfires are permitted as long as they are kept inside a 3-foot ring and monitored. All vehicles in the campground area must have a Steering Wheel or Campsite Pass and every person at the campsite needs a Weekend Concert Pass or VIP Weekend Concert Package.
Festival Details
The Lakes Jam Festival will take place from June 25 to June 27, this year and the live concerts will kick off on Thursday evening. Camping opens at 8 a.m. on Thursday, June 25, so you can set up camp early and start enjoying the fun. Tickets and camping passes are available for sale right now, so lock yourself into the experience of a lifetime today.
Find the Best Camping Gear at PleasureLand
Find all of the top RV parts and camping supplies for Lakes Jam 2015 right here at PleasureLand RV Center in Minnesota. With numerous locations throughout the state, and one right here in Brainerd, we make it easy for you to pick up supplies or have your RV repaired in a pinch.