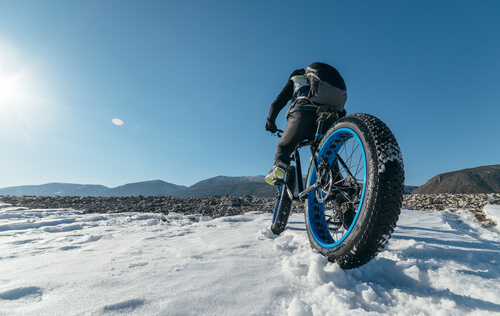 Fat biking isn't a winter sport that's as well known as, say, skiing, sledding, snowmobiling, or ice climbing, but that's not really fair. Fat biking allows you to ride a bike anywhere you want over the winter landscape, even over snow. Instead of being restricted to icy trails and slushy roads, you can ride your bike like you would in summer and go wherever you please due to the oversized tires.
Like most winter sports, fat biking is a great activity to enjoy in Minnesota during the winter thanks to Minnesota's plentiful snowfall and outdoor beauty. Plus, thanks to a recent project in Minnesota, there are more trails than ever to fat bike on throughout Minnesota state parks. These trails are groomed specifically for the large, low pressure tires that a fat bike uses.
Fat bikes are easy to stow in your RV and offer unprecedented control for those wishing to explore a winter landscape.
Some of the more popular trails include Douglas State Trail between Rochester and Pine Island, which is 13 miles long. There's also the Richard J. Dorer State Forest near Winona that has about 7.5 miles of fat bike trails. Farther north in Minnesota, you can find Cuyuna Country State Recreation Area near Ironton with 20 miles of trails. Split Rock Lighthoust State Park near Two Harbors has 8.7 miles of trails. Finally, you can check out Jay Cooke State Park in Carlton, which has 5.4 miles of trails.
Visit PleasureLand RV Center
Stop by PleasureLand RV Center to tour a motorhome or travel trailer and find an RV that's right for you and your family. Stay out longer on your fat biking adventures by traveling in an RV. With the warmth of an RV to return to at the end of the day, you can stay out as long as you want and not have to worry about a trek back home.