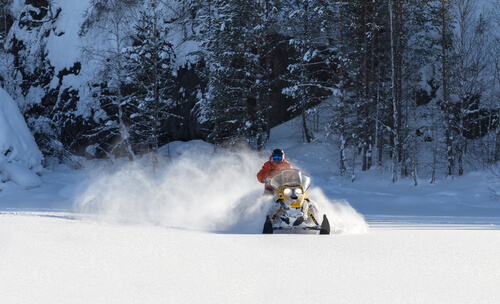 Minnesota is one of the country's top winter destinations if you're more into embracing the snow than escaping it. From skiing and sledding to snowshoeing and ice climbing, Minnesota's got it all. And if you've got a snowmobile, you're in luck: Minnesota caters to you every winter as well.
All told, there are about 22,000 miles of maintained, groomed, and marked snowmobile trails that are spread throughout Minnesota and her wilderness spaces. While riding your snowmobile, you'll enjoy seeing Minnesota's rolling terrain, hundreds of lakes, and sprawling forests.
Brainerd Lakes
The Brainerd area is popular in the summer for its lakes and those same lakes make it a great winter destination as well. There's an intricate web of snowmobile trails that spread out between the frozen lakes, such as Pelican Lake, Gull Lake, Crosslake, and more. The area is interspersed with villages and towns that are more than happy to have snowmobilers stop in for a bite to eat and to rest. If you don't own your own snowmobile, you can also rent one from a number of local businesses.
Voyageurs National Park
The park and the land surrounding it are more than welcoming to snowmobilers. There's that great mix of established trails and a support network from local communities that make riding in the region a joy. As you move through the park and the surrounding wilderness, you'll not only enjoy the natural beauty and solitude, but you'll also encounter small towns that offer shopping, dining, and more. The best part is that the area has few roads that you'll encounter between stops, so it feels like one continuous journey.
Visit PleasureLand RV Center
Stop by PleasureLand RV Center to tour a motorhome or travel trailer and find an RV that's right for you and your family. Stay out longer on your snowmobiling adventures by traveling in an RV. With the warmth of an RV to return to at the end of the day, you can stay out as long as you want and not have to worry about a trek back home.