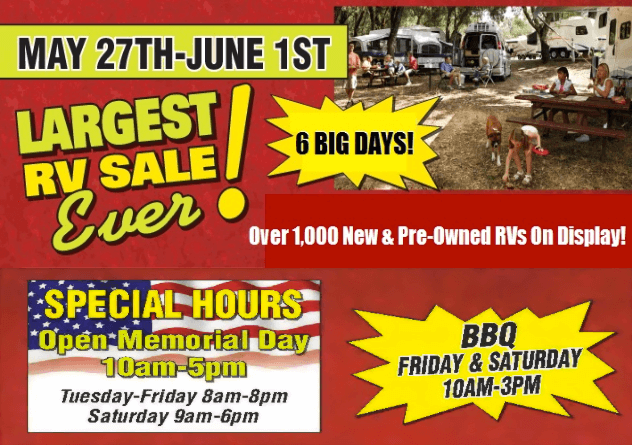 Pleasureland RVis having a Memorial Day Sale this weekend. The sale will be from May 27th through June 1st. This 6 day sale features several thousand new RV's, travel trailers and motor homes,many of which will be on sale. The sale begins on Memorial Day, Monday May 27th and ends with a Big BBQ on Friday and Saturday. Pleasureland RV only offers deep discounts like this once a year, so this is the sale that you won't want to miss. The selection and prices are not to be beat. Over one thousand RV's will be on display, and many of them will have deep discounts and unbelievable prices.
Pleasureland RV will have special hours during this monumental sale. On Monday, we will be open from 10 am to 5 pm. Then on Tuesday through Friday, we will be open from 8 am – 8 pm, and finally on the last day of the sale we will be open from 9 am – 6 pm. You can come by anytime and take a look at the many different makes and models available for sale. Whether you are a first time RV owner or have been an RV enthusiast for years and years, our well qualified sales people will be happy to show you any of the thousands of RV's we currently have in stock.
The Largest RV Sale Ever features deals on hundreds of vehicles at low prices. There will be deep discounts on all 2013 models, as we are getting rid of our old inventory to make room for new 2014 models. If you have been waiting to get a new RV, now is the best time. Come to Pleasureland RV for the biggest selection and the best prices on new and used models during our huge Memorial Day Sale.
You can check out our huge inventory during this amazing sale. You surely won't find selection, service and prices like this anywhere else. And of course, don't forget to come on Friday and Saturday for the BBQ. Bring the whole family for some great food and fun, while you check out your next RV or your first RV and discover just how fun the RV lifestyle can be.
Whether you are new to RVing or have been a part of the RV lifestyle for years you won't want to miss all the food, fun, at great savings at this gigantic Memorial Day Sale. With prices as low as just over $8,000 dollars for a brand new RV, this is an event that you won't want to miss. You can bring the whole family down for all the fun happening next week at the big Memorial Day Sale.