Two weeks ago, we began working our way down the RV alphabet. If you're in the market to purchase an RV, new or used, or just looking to rent an RV for an upcoming vacation, it's important to have a general understanding of the various types.
RVs come in all shapes and sizes and like everything else in life, there are ups and downs to each class of an RV. But I'm willing to bet you'll have no problem at all finding the one that fits your lifestyle the best. In case you missed them, let's do a quick recap of the two classes we've covered.
Class A Motorhomes. There are the big, square and boxy RVs that are considered the most luxurious due to their top-of-the-line ammenities. However, the biggest draw back to Class A's is the fuel economy.
Class B Motorhomes. These RVs use a cargo ban as their base and are very easy to store. The biggest draw back to this class? Most likely the lack of a master bedroom. Because they are easier to store than Class A's means they are significantly smaller. But if you're looking for weekend get-a-ways or short road trips, then this Class may be just the one for you.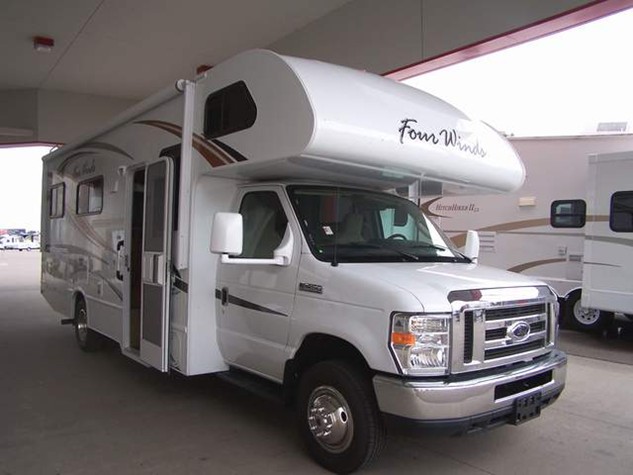 Today, let's take another step down the RV alphabet and talk about Class C Motorhomes. Think of Class C's as a mini-motorhome. You'll get the same conveniences of a Class A in a scaled-down version and lower price. Though it's technically smaller than a Class A, the Class C is equipped with full sleeping, kitchen, dining, and bathroom facilities.
Let's see how The Fun Times Guide breaks down a Class C Motorhome.
Advantages:
It is somewhat easier to obtain service and warranty work on the driving portion of the RV than it is with a Class A motorhome. With a brand name cab and drive train, auto dealers can hardly say, "Sorry, it's not ours."
The smaller overall size can get you into secluded and more enjoyable campgrounds with plenty of beds to sleep the entire family.
Your mileage in a Class C motorhome may be a bit better than in a Class A, but not much.
Disadvantages
If your RV is one with the over-the-cab bed, it probably has a large window across the front of the RV. These are notorious for leaking water when it rains. I owned a used one and spent a good amount of time repairing water damage and sealing the window.
If you're looking for open square footage, this probably isn't the best RV for you. At the most, you may have one small slideout.
The ones that have a rear bedroom also have a long rear overhang beyond the rear wheels. You'll get a heck of an excessive tail swing when you go around corners, you'll be watching in the mirror on every maneuver to make sure you don't tag someone.
Now that you have a basic knowledge of the three motorhome classes, maybe you've found the right fit for you! If not, stick around. Next week we'll take a look at fifth wheels! And remember, you can always come down and take a look at some of these beauties yourself! We're more than happy to help you in your big decision.