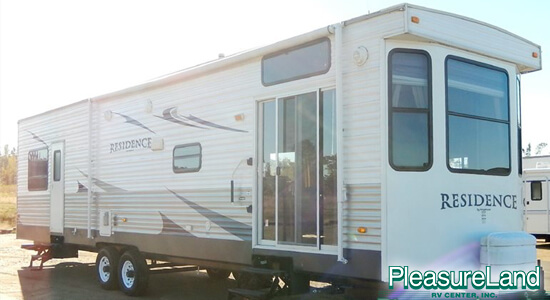 If you don't think you'll be buying a vacation home in 2016, you may want to reconsider. A vacation home doesn't have to be a major investment. In fact, it can be extremely affordable if you're considering purchasing a park model trailer, such as the 2010 Keystone Residence.
This luxurious park model RV is designed to be your home away from home, and like most park models, you can tow it easily or leave it at your favorite destination to come back and visit often.
Feels Like Home
The 2010 Keystone Residence will immediately turn into your dream vacation home. The residential-inspired design, featuring a private master bedroom entry, a work desk with chair, full closet with sliding doors, a large angle shower, washer/dryer, slide-out sofa, dining table with four chairs, residential kitchen and patio doors will make you feel at home wherever you decide to spend your down time.
The 2010 Residence 401FE Floorplan
The 2010 Keystone Residence 401FE available on our PleasureLand RV Center Budget Lot in Brainerd features a spacious layout that feels much more like home than an RV. The rear of the trailer features a master bedroom with king bed and walk-in closet, and a pass-through bathroom separates the bedroom from the remainder of the RV.
The front of the trailer is equipped with a full residential kitchen with ample counter space (and bar stools), a free-standing dinette, two lounge chairs, a sofa, an electric fireplace and plenty of cabinet storage.
Buy Your Vacation Home Today
Why wait any longer to purchase your dream vacation home? The 2010 Keystone Residence 401FE is available right here on our PleasureLand Budget Lot in Brainerd, Minn. We're currently offering this nearly new RV for a special winter price that will make you want to escape the cold with your brand new Residence today.