As I'm sure you all know, proper RV maintenance is key to a long-lasting Minnesota motorhome, fifth wheel or travel trailer . One important thing we often forget about cleaning is our rubber roof. Can you remember the last time you gave it a good cleaning? If not, don't worry. You're probably not alone. Because our RVs are considerably tall, we don't always see the tree sap, bird poo, dirt, etc. building up on the roof.
In general, you should be cleaning your rubber RV roof at least three or four times a year. This can vary depending on where you park your RV the most. For example, if you like to park under trees in the summer to stay cool, you'll probably have more of a sap build up and may need to clean the roof a few more times throughout the year.
So why is it important to the clean your RV roof? First off, it will help prevent deterioration and staining from all the above mentioned and second, it'll drastically help reduce streaking of the sidewalls. Your rubber roof is made from a material called Ethylene Propylene Diene Monomer (EPDM), which is made to last 20 years or longer. On average, rubber roofs come with a 10-12 year guarantee.
If you've owned an RV with an EPDM roof, you may have noticed that the roof's surface looks chalky or that there are white streaks on the side of your RV. This is the result of not routinely cleaning. Don't panic though, there are products made specifically for this and can be purchased online in the drop of a hat.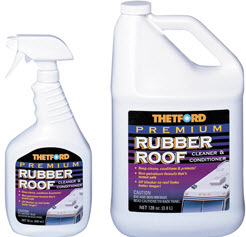 My personal favorite is THETFORD's Premium Rubber Roof Cleaner and Conditioner. This product deep cleans, conditions and protects all in one easy step. It will remove all of that oxidation, tree sap, bird droppings and dirt buildup and also contains a UV blocker to keep your RV roof looking better longer.
Of course there are plenty of other products made for rubber roof cleaning that you can find at Pleasureland RV's online parts and accessories store. If you have any questions, please don't hesitate to give us a call or swing by one of our four Minnesota RV dealerships.