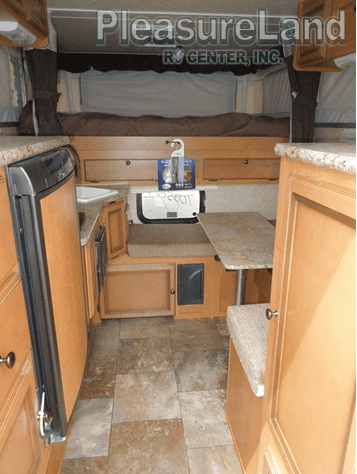 When we first set out to indulge in the RV lifestyle, most of us start out by eyeballing the big, luxurious RVs, the ones that take a special license to drive and which serve as basically a middle class home on wheels. These are great, if you have the money and the time and you need all that space. Some of us do, and some of us don't. If you don't, then you may be surprised at how roomy and comfortable some of the better truck campers can be.
In particular, the new 2014 Palomino Bronco is downright inspiring in just how much living space they were able to pack onto the back of a truck. It's really all in the storage space. Everything from the seating to the bed doubles as a storage area, and this seriously cuts down on clutter. The closet storage on the right when you walk in barely takes up much space, either.
The bed is comfy enough at 60″ by 80″ which makes it perfect for one person, and doable for two. The camper is a pop-up, which means that you get great clearance, no more worrying about losing your camper under every low-hanging bridge. The kitchenette is a little bit cozy, but let's be honest, if you're riding around in a camper, you're going to be doing a lot of cooking out, so all that really matters is that the ice box is roomy enough to host a whole cookout.
The dual range offers real gas cooking, while the A/C ensures that you'll enjoy even the hottest summer months and stay cool no matter what's cooking.
Although many of us think of the RV lifestyle as strictly an "RV" deal, new RVers would be advised to seriously consider a camper. Maintenance is easier with a truck camper, truck campers cost less than RVs, and as the Palomino Bronco proves, you don't have to sacrifice comfort to live out of your truck.