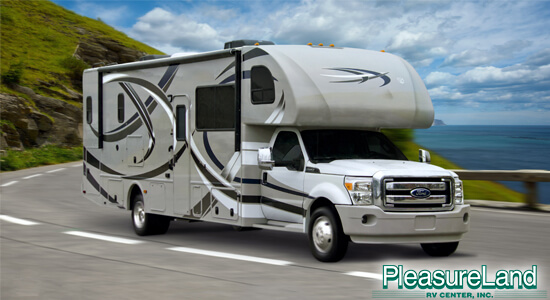 If you're interested in the RV lifestyle but aren't sure you want to dive head-first into purchasing a new motorhome, travel trailer or fifth wheel, you should consider renting one instead. Renting an RV is an ideal way to get a feel for the RV lifestyle by getting on the road and experiencing it for yourself.
PleasureLand RV Center offers the rental of ice houses, fold down campers, travel trailers, Class C motorhomes and Class A motorhomes, so you can get a feel for the type of RV that's prefect for your travel needs. Affordable rental rates, unlimited mileage, new models and zero hidden fees make renting an RV from PleasureLand a breeze.
Renting an RV is Easy and Affordable
Renting an RV may seem overwhelming at first. After all, even renting a car can be somewhat stressful. PleasureLand RV Center makes the RV rental process easy and stress-free, so you can enjoy your vacation to the fullest.
Renting an RV gives you a chance to go on an affordable vacation without individual airline tickets for all of your family members, expensive overnight stays in hotels and costly meals eaten at restaurants. A large number of the costs that cause stress when planning a vacation are eliminated. renting an RV gives you the opportunity to get out and explore the places you've always wanted to visit for a much more affordable price than the average vacation.
The Perks of RV Life
The moment you start driving toward your destination, you'll realize the perks of the RV lifestyle. You'll forget about worrying about flights, airport security, hotel reservations, car rentals, dinner reservations and everything that turns a fun vacation into a dreadful one. Just kick back and cruise to America's best attractions, enjoying the journey the entire way.
Try It for Yourself
The best way to understand all of the perks of the RV lifestyle is to enjoy it for yourself. Log onto our website or stop in and see us at one of our PleasureLand locations in Ramsey, Brainerd, St. Cloud or Long Prairie to start planning your RV vacation today.