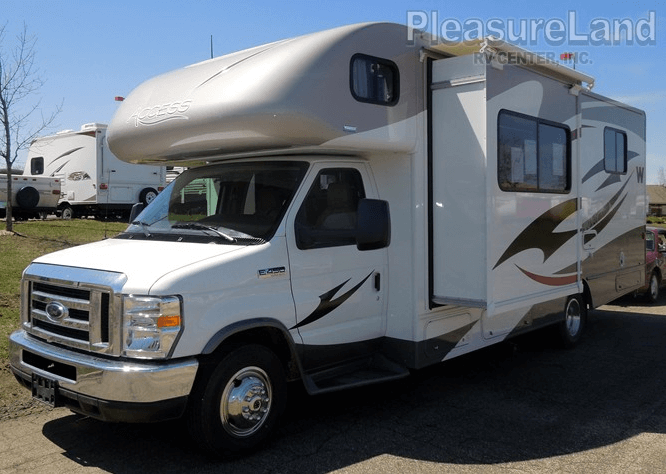 When people hear of the Winnegabo, they know it is an exceptional recreational vehicle that has been around for generations. High-end technology meets sophisticated style for a great price, as this vehicle can take the punishment of the road and still have a stellar appearance when you get to your destination.
Here at PleasureLand RV Center, we are happy to introduce the new Winnebagos that have entered the lot. You will absolutely love the 2013 Winnebago Access Premier as you will get mobbed by other travelers at the RV park who want to take a peek inside this vehicle.
Let's take a look at what this recreational vehicle has to offer. You have a choice of 3 family-friendly floor plans to choose from as the RV is packed with standard features such as MCD solar/blackout roller shades and LED ceiling lights. Walking through this Class C motor home, you will be taken in by the d
ark Forest Cherry cabinetry throughout the kitchen and bedroom area. If you are looking for a lighter shade to the cabinets, you can change them to the Coffee-Glazed Vienna Maple cabinetry.
Relax while heading to your destination in the ultra leather cab seats or sofa/sleeper while listening to the satellite radio or watching digital LCD TV with the 14,800 BTU air conditioner keeping you cool. One of the many perks to the 2013 Winnebago Access premier is the almost silent 4,000-watt micro-quiet gas generator from Cummins Onan and the 1,000-watt AC/DC converter. So you will have plenty of power if you decide to go on a solitary camping trip away from the crowded RV parks and resorts.
When you get to your destination, drop down the powered patio awning as you can relax in your lawn chairs and enjoy the scenery. And the fun won't stop when the sun goes down over the horizon. LED lighting on the patio awning lets you stay out late at night sharing camping stories or doing a bit of star-gazing with the kids.
The 2013 Winnebago Access Premier has so much to offer to people looking for a recreational vehicle. While it costs a little more than other vehicles, you are definitely getting your money's worth in the way of features and amenities that you won't mind the extra price to drive this luxury vehicle down the road.
So stop in at PleasureLand RV Center to take a look at all the 2013 Winnebago Access Premier C Class motor homes that we have in stock. You are sure to find the perfect one that will help you get to your destination in safety and comfort.