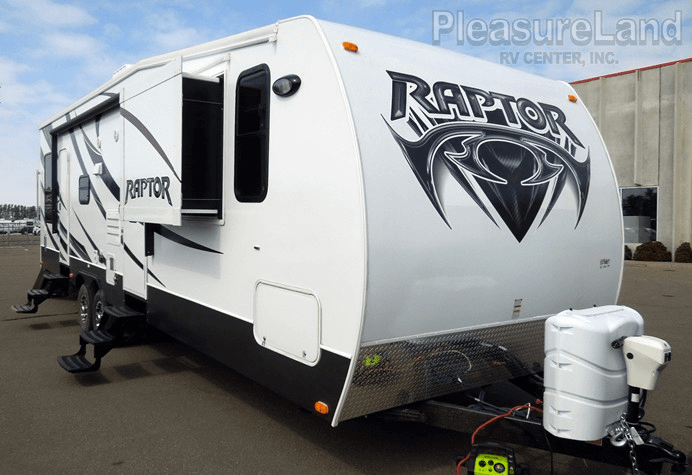 This travel trailer is a great way to take your next vacation. With all the amenities of home you won't have to worry about where you are going to sleep or take a shower. You can go just about anywhere in the brand new 2013 Keystone Raptor Travel Trailer Toy Hauler.
This travel trailer has plenty of room for the whole family. There is plenty of seating, including bench seating in the dinette area. You and your family can enjoy full, quality home cooked meals in the dinning area when you use the full kitchen to prepare you meals. The kitchen comes complete with a stovetop range, oven, refrigerator and freezer and microwave. There is also plenty of pantry space for all your kitchen appliances and extra food.
The kitchen and dining room are roomy enough t
hat you can entertain friends while you are on vacation. Everyone can gather for a big meal, filling your home away from home with laughter and love.
The Travel Trailer also has a full bathroom so you don't have to worry about using gross stinky gas station bathrooms while traveling down the highway, or weird community bathrooms at a campground. If you have spent any time camping you know how much nicer it is to not have plan your trip around when you can take your next shower. And for parents with young children, its definitely a relief not to have to worry about finding the next gas station, or pulling over on the side of the road because your little one has to " go right now".
There's also plenty of room for sleeping in this luxurious travel trailer. The toy trailer includes a king sized bed, which is a unique feature that no other travel trailers in its size and class have. The bedroom also has a TV Hook up.
Why not check out one of these great models today from Pleasureland RVand bring something home for the whole family.