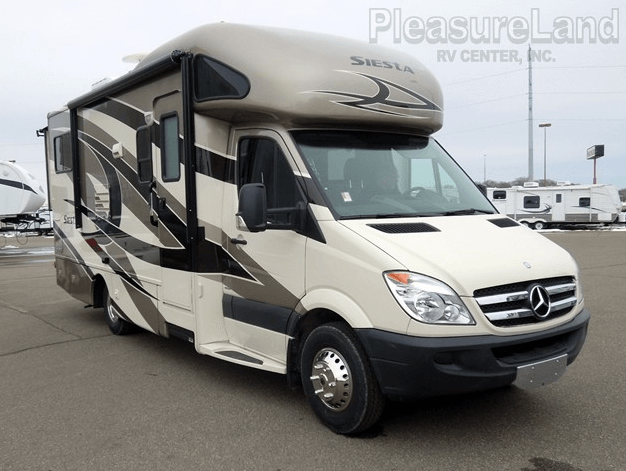 The 2014 Class C Motorhome Thor Siesta has arrived. This motor home features all the amenities that you and your family need to have a comfortable life in your home on the road.
With a full bathroom, kitchen and plenty of sleeping room your and your family won't feel cramped or crowded in you home away from home. A full bathroom complete with shower, toilet and sink, means that everyone can do there daily bathing in private. No more gross, disgusting camp bathrooms. No more washing your hair over the sink. No quick bathing at the lake or stream.
The full kitchen, which includes a solid tops stove, microwave, sink and cabinet space means you and your family can enjoy high quality home cooked meals in your own kitchen. You don't have to waste money on roadside diners or have quick unhealthy meals at fast food joints. The quality of your meals and your time will improve on your vacation when your family has the opportunity to sit down to a healthy, home cooked meal. And with out all the distractions of work, school, and extra curricular activities, you will have the opportunity to really enjoy it.
Theres plenty of seating and sleeping space for everyone. There is a queen size bed in the back, which is comfortable and relaxing for those long trips away from home. There is even an extra loft space for extra guests. The couch in the living room area, provides comfortable seating during the day, and can double as extra sleeping space at night.
There's plenty of other amenities in this state of the art RV as well, including an LCD tv in the bedroom for all your entertainment needs. There's also an attic fan to keep you cool and comfortable on those hot, sweaty summer days.
If you are looking for a new RV for your next road trip, the 2014 Class C Motorhome Thor Siesta from Pleasureland RV is just the one for you.