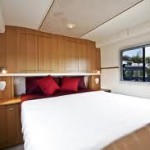 On first observation of a new or used RV before we buy, we tend to focus our attention to such things as floor plan, room size, closet and space for storing, number of slides, appliances, entertainment and communications equipment, function of plumbing and electrical systems, heating and cooling capacity, etc. Trust me, all of these things are very important when taking the steps to buy an RV. But while these things are important, you need to make sure you focus on other aspects of the vehicle as well. So when you're shopping for an RV, don't forget to check out these small but critical features:
Lie on the beds to see if they're comfortable and long enough. RV manufacturers are forced sometimes to shorten the length of normal measurements in order to satisfy the amount of space they are dealing with. Take the case of the queen size RV bed. While a normal queen is 80 inches long, in an RV, that same bed might be only 74-75 inches. While you might not think thats a huge deal, if you happen to be over 6 feet tall, it certainly could cause problems.
Along with the bed size, make sure you are comfortable with the size of the couch. Couches may also be undersized to fit the compact space of an RV. If you enjoy stretching out on the couch to watch TV or perhaps a movie, this could be a problem.
It may also be wise to check out the dimensions of the shower inside the RV. If your elbows constantly bump the walls or you need to crouch down to get your head under the shower head, you'll wish you'd chosen an RV with a larger shower. Same goes for the toilet. It is important to test these areas out so you don't run into problems after you have purchased your RV.
It doesn't need to be overstated that comfort in these areas are really important. What were the other things you looked for when you bought or were searching for an RV? Leave a comment below and let us know!