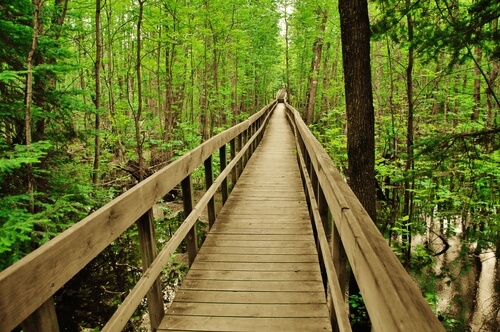 Minnesota has tons of natural sites to visit if you're an RVer. So many, in fact, that we bet you could spend an entire year checking destinations off your list. If you don't have all year, though, and want to see some of the best parks that Minnesota has to offer this 2018, add these to your travel bucket list.
Voyageurs National Park
A vacation to Voyageurs National Park is a true adventure as visitors have 218,000 acres to explore. The tapestry of the park is an intertwined network of lush forest, ancient rock, and multiple waterways.The rugged and remote park is a haven for water enthusiasts and wildlife observers. Depending on the season, visitor's enjoy hiking, fishing, canoeing, boat tours, and ranger led naturalist programs. During the winter, snowmobiling, skiing, ice-fishing, cross-country skiing, and hiking snow-covered trails are options. Rowboats, canoes, cross-country skis, and snowshoes are available for rent.
Grand Portage State Park
Grand Portage State Park is a state park at the northeastern tip of Minnesota near the Canadian border. It contains a 120-foot waterfall, the tallest in the state, on the Pigeon River. The High Falls and other waterfalls and rapids upstream necessitated a historically important portage on a fur trade route between the Great Lakes and inland Canada. This 8.5-mile path plus the site of forts on either end are preserved in nearby Grand Portage National Monument. The forested areas provide a beautiful backdrop to the rugged beauty of the falls and the shoreline of the Pigeon River that runs through the park.
Gooseberry Falls State Park
Gooseberry Falls State Park is known as the gateway to the North Shore. It possesses spectacular waterfalls, a river gorge, pristine Lake Superior shoreline, plenty of log and stone structures built by the Civilian Conservation Corps, and north woods wildlife. Hike or ski to see the Fifth Falls through a forest of evergreens, aspen, and birch, and enjoy camping in modern campsites, picnicking, and relaxing along the Lake Superior shoreline or the Gooseberry River. Listen to the thunderous roar of the Upper, Middle and Lower Falls of the Gooseberry River as it plummets through a rocky gorge. Watch for waves, ships, or the moon rise on Lake Superior from an ancient lava flow known as the Picnic Flow.
Visit PleasureLand RV Center
Before you start checking destinations off your bucket list, be sure to stop in and see us at PleasureLand RV Center this spring or summer. PleasureLand RV Center can ensure that your RV is ready to handle the road trip ahead and you can make sure that you're properly outfitted for whatever the road brings. Where do you plan to head in Minnesota this year? Let us know!