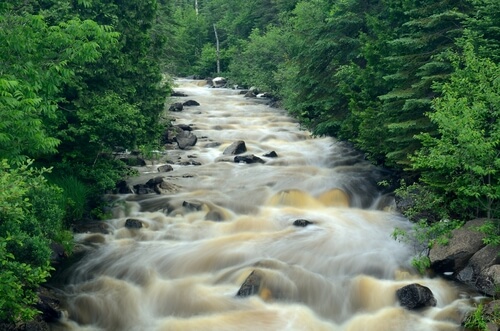 Minnesota is one of the country's best states for outdoor fun. With scores of campgrounds, state parks, and wildlife preserves, there's always a new area to explore. Take Cascade River State Park, for example. Located just 10 miles southwest of Grand Marais and about 265 miles from the Twin Cities, its office is located just off State Highway 61 at mile post 101.
The Cascade River is fast-moving and cuts through black volcanic rocks and into a gorge, creating a spectacular waterfall. Ferns and moss add to the beauty of the park, growing along the river. The park offers views of Lake Superior along numerous hiking trails that lead through forests of birch, spruce, and white cedar.
The park covers over 5000 acres and is home to a number of species across its hilly terrain, including moose, wolves, bears, pine martens, and deer. Bird-watching is also a readily pursued activity with a variety of birds and hawks native to the area, including warblers and chickadees.
RVers will find a number of RV sites to use, making for a comfortable spot to set up camp and stay for a few nights while exploring the area.
Visit PleasureLand RV Center
Before you head out on any road trip this summer, it's important to get your RV checked over by a technician to help prevent any mechanical mishaps. Stop by PleasureLand RV Center to schedule some service or to tour some new motorhomes.