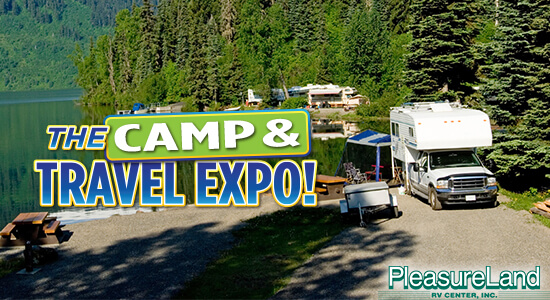 You don't have to be a snowbird to enjoy the RV lifestyle in winter. The 2016 Camp and Travel Expo in St Cloud is guaranteed to provide everything you need to get excited about the spring camping season. This year's show is gearing up to be bigger and better than ever with more RVs for sale, more vendors and some of the best seminars and workshops in the industry — all available with free admission.
Camping and Travel Expo Details
This year's St Cloud Camping and Travel Expo will start on Thursday Feb. 18, and extend through Sunday, Feb. 21. Show hours are from 10 a.m. to 9 p.m., on Thursday, Friday and Saturday, and 11 a.m. to 5 p.m., on Sunday. The event will be held at the River's Edge Convention Center on 4th Avenue in St Cloud. Admission is free for all attendees.
What You'll Find
The 2016 Camp and Travel Expo will feature hundreds of RVs, which will all be available for viewing indoors. It's the best place to catch up on the latest RV trends or find an unbeatable price on a new or pre-owned RV. In addition to finding your dream camper, you can visit the booths of campgrounds, travel companies, camping companies and RV dealerships to see the latest and greatest travel deals and camping or RV supplies. If you're into the RV lifestyle, you'll want to return to this unbeatable free event every year.
Shop PleasureLand RVs
We'll be taking more than 100 of our PleasureLand RV Center RVs to the 2016 Camp and Travel Expo, and we don't plan on bringing them back with us. That means you can find the deal of a lifetime on one of our top-quality, new or used pop-up campers, travel trailers, fifth wheels or motorhomes. Start the 2016 spring camping season off with an upgraded RV from this year's expo.