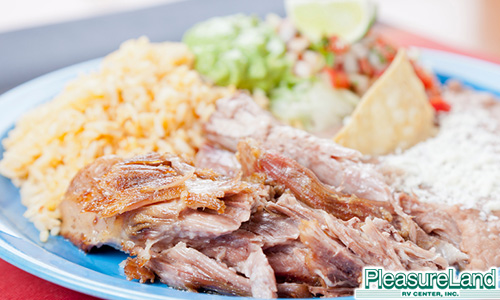 Looking for a quick RV recipe? Here's one for some amazing carnitas that you can make on the road, at the campfire, in your oven, or anywhere else for that matter.
Quick RV Carnitas
Ingredients
1 bottle of Mexican Coca Cola in a glass bottle
1 pound of pork butt
Ground anito
Red chilli pepper
Orange juice
Tequila
Corn tortillas
Aluminum foil
Directions
This is actually a surprisingly simple meal. All you need to do is take the pork butt and dice it up, and then marinate it in a mixture of orange juice, tequila and Coke. The Coca Cola sounds crazy, but it's a necessity here. It gives the meat a unique caramel sweetness unlike anything else you've had before. Add in the ground anito and red chilli and whatever spices you prefer (a little salt and pepper should be enough, though), and let it marinate overnight.
When it's all done soaking in the juices, go ahead and wrap it up in the aluminum foil. You can either slow roast this in the oven at 350 for three hours, or you can roast it on an open fire, or right in the coals, if you're camping out tonight.
When it's finished, toast up your corn tortillas in a pan or on the fire and scoop the meat right on. The pork should be tender and flaky and rich with a mix of bitter, sweet and tangy flavors for a unique Mexican meal anywhere on the road. This is ideal for those Southwestern trips and any journey where you can't find a great Mexican restaurant on the way.
The best part is that you can use the leftover tequila and orange juice to mix a few cocktails to go with the meal. Have fun experimenting and making this one your own.
Visit PleasureLand RV Center
Before you hit the road on your next RV adventure, come by PleasureLand RV Center for RV sales, service, and accessories.