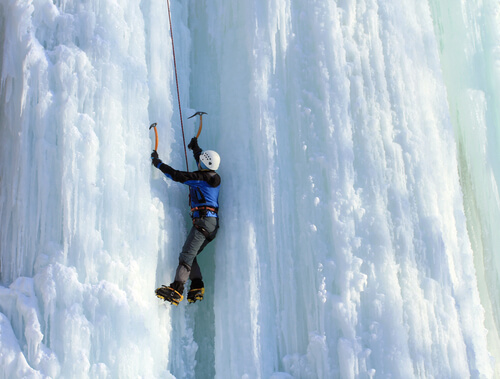 Climbing is often viewed as a dangerous, adrenaline-pumping activity that only the most physically strong and skilled people are able to do. Adding ice to that mix? You may want to say "forget about it," but ice climbing is, in reality, less about physical strength and climbing skills and more about thinking and patience. It's also a lot more safe than you probably assume so long as you practice tried and true safety precautions when you climb.
If you're curious about giving ice climbing a try this winter in Minnesota while you travel about in your RV, you're going to want to learn how to do it from someone experienced. It's not advisable that you try ice climbing by yourself if you have no experience. Minnesota actually has two great opportunities to learn in annual climbing festivals: the Sandstone Ice Festival and the Duluth Ice and Mixed Fest.
The Sandstone Ice Festival is scheduled from January 5 through 7. It's been going for over a decade now and is held in Robinson Park, which is the first park in Minnesota set aside specifically for ice climbing. It has climbing opportunities for any skill level, but more importantly it's got beginner courses to teach you about safety, the climbing equipment you need, and the basic movements to get you up an ice cliff.
Happening later in the season, the Duluth Ice and Mixed Fest is scheduled for February 2 through 4. It's a newer festival, but offers the same benefits as Sandstone. The event takes place in Duluth at Casket Park.
Visit PleasureLand RV Center
Before you hit the roads this holiday season, bring your RV by PleasureLand RV Center in Minnesota to ensure it's in top shape for the winter roads. And if you're in the market for a new or used RV, stop in or log online to browse our huge selection of top-quality RVs in stock.