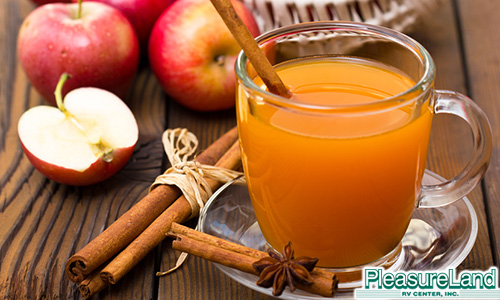 As the nights start to cool and the leaves begin to change, thousands of area families will head out into the National Parks and Forests to explore the woods and get some fresh air before winter sets in.
If you are planning a trip in a model from PleasureLand RV Center this fall, consider testing these two fun recipes for some great campsite snacks.
Apple Cider on the Fire
Enjoying a mug of steaming and spiced cider can keep you warm on autumn evenings in the wilderness.
Ingredients:
1 half gallon jug of apple cider
1 whole orange,

unwaxed

3 whole cloves
3 whole cinnamon sticks
3 to 4 tablespoons of sugar, if the cider isn't already sweetened
Wash and peel the orange, setting the peel aside. Place the orange peel, cloves, and cinnamon sticks in a cheesecloth bag. Pour the apple cider into a Dutch oven or other campfire safe pot or pan. Add the bundle of spices and let the mixture simmer over the fire, covered, for 10 to 30 minutes. Stir regularly and add the sugar at the end if needed, giving it a few extra minutes to dissolve.
Popcorn in the Woods
You don't have to turn to the microwave in your RV from PleasureLand RV Center if you want popcorn to become a fun and exciting activity for the family to share around the fire. Get popping with just three simple ingredients and a roll of aluminum foil.
Ingredients:
1 cup of popcorn kernels
4 teaspoons of vegetable oil
Salt, butter, or sugar to top
Lay out four separate two-foot-long sheets of aluminum foil on a table or other flat surface. Pour a teaspoon of oil into the center of each sheet, then add a quarter cup of popcorn kernels to each sheet as well. Fold the top and bottom sides of each sheet down over the kernels, then twist up both sides to create a loosely sealed package. Set each package down over a bed of glowing coals and listen for the sounds of popping. When you hear a two to three second gap between pops, pull out the packets and let them cool before topping and eating.
Share your favorite fall snack recipes with PleasureLand RV Center!