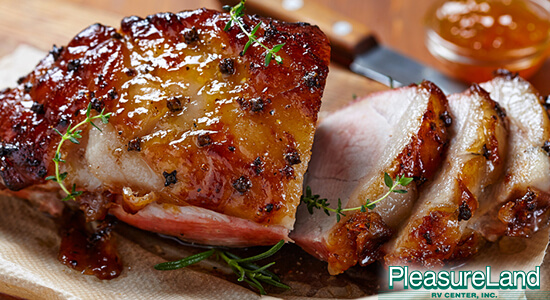 Turkey has been a staple part of Thanksgiving dinner in many households for decades. However, you don't have to eat a typical, boring turkey every Thanksgiving. This mouthwatering smoked pork sausage with hard-cider sauce is a recipe that will spice up your Thanksgiving meal this year and will probably become a new family favorite.
Pork Sausage with Hard-Cider Sauce
What you'll need:
1 dried chipotle chile
1/2 cup hard cider
2 Granny Smith apples (halved and cored)
2 ounces rye bread (crust removed, sliced into bite-size pieces)
1/4 cup apple cider vinegar
Kosher salt
2 tablespoons light brown sugar
Four 4-ounce smoked pork sausages
1 pound broccoli (cut into 1-inch pieces)
1 tablespoon extra virgin olive oil
1 tablespoon Dijon mustard
1 1/2 tablespoons butter (cubed)
1/2 teaspoon caraway seeds
Cooking instructions:
Preheat oven to 325 degrees.
In a medium bowl, cover the chile with hot water and let stand for 30 minutes.
Bake apple halves with the cut side down on a baking sheet for 30 minutes. Let apples cool.
Scoop pulp out of the apples and into a food processor.
Stem and seed the chipotle, then chop and add to the food processor. Puree.
Spread the bread in a pie plate and bake for 10 minutes.
In a saucepan, boil the hard cider with the vinegar, sugar and the apple/chile puree. Simmer until reduced to 3/4 cup. Remove from heat and season with salt.
Grill the sausages on medium heat until they're lightly charred on all sides and cooked thoroughly. Place on a plate and tent with foil.
In a large skillet, heat the oil and sit in the broccoli. Season with salt and cook until brown. Stir in the caraway, mustard, cider sauce and 1/2 cup of water. Bring to a boil.
Remove broccoli and sauce from heat, stir in butter and add salt as needed.
Serve sausages covered in broccoli and sauce. Garnish with bread pieces.
Don't forget to stop and see us at the PleasureLand RV Centers throughout Minnesota when you're traveling in your RV this holiday season.