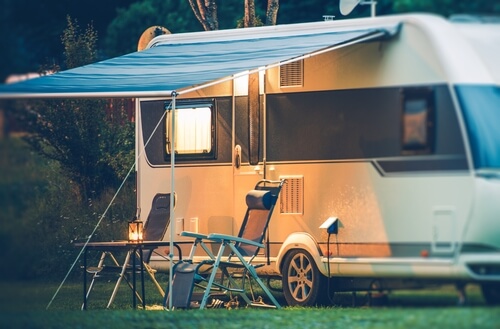 Camping seems simple enough — arrive at the campsite or RV park, sprawl out and enjoy a weekend, week or even months at your new destination. However, there are certain things that make campgrounds work, and many of those things involve the behavior of those who are camping there. This simple guide to campground etiquette will help you and your fellow campers enjoy each camping experience to the fullest.
Leave Nothing Behind
The first part of enjoying the great outdoors is doing as little harm to it as possible. Always pack up your campsite, then double and triple check that you haven't left any items or trash behind. Leave your campsite cleaner than you found it.
Be Friendly
When you're at a campground or RV park, you know you have a common interest with everyone else there. Invite your campground neighbors over for snacks or drinks and encourage your little ones to make new campground friends. Often times, the people you meet at the campsite become lifelong friends.
Time your Awning and Outdoor Lights
It can be easy to forget to turn off your awning, porch or other outdoor lights. Set your lights on a timer, so they never use excessive power and keep your fellow campers up at night. Your outdoor lights may not seem bright to you, but the camper next door may be staring at them all night long.
Leave Extra Wood Behind
Every camper has arrived at a campground late and endured the struggle of finding firewood at night. One of the best bits of campground etiquette you can practice is leaving some of your firewood behind for the next camper. They'll be elated to be able to start a fire upon arrival, and hopefully the favor will be returned to you by someone else.
Find Your Dream Camping Vehicle
A happy camper makes a good camper, and there's no better way to get excited about camping than to purchase a top-quality new RV. Stop in and see us at PleasureLand RV Center to find your dream RV today.